Welcome to the third installment of Briefly Romantic. Today's books are all books from Forever Publishing.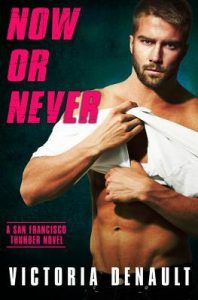 Now or Never
by
Victoria Denault
Published by
Forever Yours
Published:
January 15, 2019
Buy on Amazon
Add to Goodreads
Get ready for all the feels in this sexy, "emotionally charged" (Library Journal) romance about a bad boy hockey player who wants a second chance to win the heart of his high school crush.
All Winnie Braddock wants is a quiet place to be alone and time to heal her battered heart. But the refuge she'd hoped for in her family's summer cottage is destroyed when she gets there to find Holden Hendricks literally camped out in the driveway. He made her life hell when they were kids, and despite what he says, it doesn't look like much has changed. She doesn't care if her brother hired Holden to renovate the house this winter; she wants him gone.

You miss 100 percent of the shots you never take. Holden knows that hockey saying all too well. After all, he could have gone pro if he hadn't messed up so much as a kid. But now he's desperate to prove he's changed for the better, especially to Winnie Braddock. As the two work together to fix up the cottage piece by piece, they realize that perhaps they can give each other the new beginning they've both been waiting for -- if they're just willing to take the shot.
I received this book for free in exchange for an honest review. This does not affect my opinion of the book or the content of my review.
First let me say how much I love the Braddock family! They are so genuine and loving and just a really fun group. I think they are the reason this series as a whole (I still need to read book 1, OOPS) is so enjoyable. But sadly Now or Never just didn't 100% do it for me. Don't get me wrong, it was entertaining and a super quick read, but there was something missing. I don't know if it was the chemistry between Winnie and Holden, the pacing, the storyline? I just know that something felt off and there was some kind of spark missing. It was a good read, but just not my favorite of the series. I do think there should be a mystery Braddock that we don't know so I don't have to lose this family. Just sayin. But if you are a fan of the series definitely make sure you check this one out.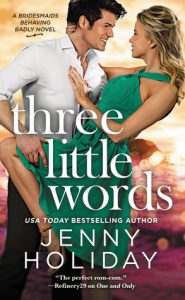 Three Little Words
by
Jenny Holiday
Published by
Forever Romance
Published:
January 29, 2019
Buy on Amazon
Add to Goodreads
Gia Gallo is officially in bridesmaid hell. Stranded in New York with her best friend's wedding dress, Gia has six days to make it to Florida in time for the ceremony. And oh-so-charming best man Bennett Buchanan has taken the last available rental car. Looks like she's in for one long road trip with the sexiest - and most irritating - Southern gentleman she's ever met...

Bennett's pretty sure that if there was ever a woman to break his "no flings" rule, Gia would be it. Sure, she's stubborn. She's also funny, smart, and the attraction between them is getting hotter with every state line they cross. While Bennett doesn't do casual, Gia doesn't do "relationships." But if they break the rules, this unlikely pair might discover that their impromptu road trip could turn out to be the best ride of their lives.
I received this book for free in exchange for an honest review. This does not affect my opinion of the book or the content of my review.
I had an interesting relationship with the Bridesmaids Behaving Badly series. I adored book one and enjoyed book 2 a little less book one. I wasn't really sure how I would feel about Gia's story as I didn't think I really knew her as much as I knew the other two. Instead I got my FAVORITE of the series. I loved, loved, loved this book. Gia and Bennett had off the charts chemistry and I found myself desperate for more words. There was showing so natural about their pairing. Two people that seemed to be 100% opposites just clicked. Did they both frustrate me at times? Absolutely, but only in the way that a perfectly told romance can. This was just the perfect end to this amazing series about friendship and finding love.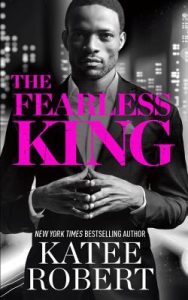 The Fearless King
by
Katee Robert
Published by
Forever
Published:
February 5, 2019
Buy on Amazon
Add to Goodreads
From the New York Times bestselling author of Undercover Attraction comes a sexy convenience romance between the heir to a Texas oil company and the rugged, dangerous man who may be the only one who can help her out of deep family drama.


Ultra-wealthy and super powerful, the King family is like royalty in Texas. But their secrets can be deadly.

Fake boyfriend. Real danger.Journey King is an expert at managing the family business. But when her father returns to Houston hell-bent on making a play for the company, Journey will do anything to stop him, even if that means going to Frank Evans for help. Frank deals in information, the dirtier the better. Rugged and rock solid, he's by far her best ally - and also the most dangerous.

Frank knows better than to get tangled up with the Kings. But something about Journey's rare vulnerability drags him deep into enemy territory... and into her darkest past. Pretending to be her boyfriend may be necessary for their plan to work, but Frank soon finds helping Journey is much more than just another job - and he'll do whatever it takes to keep her safe.
I received this book for free in exchange for an honest review. This does not affect my opinion of the book or the content of my review.
I have a minor obsession with the King family and a major obsession with Frank Evans. This book was totally addicting and edge of your seat. There is nothing that will hook me quicker than a fake relationship that turns real and that is exactly what Journey and Frank's relationship is. But there is more to it than that and that is what I ended up truly loving about this book. This isn't just a typical romance. There are some darker themes in this book, heavy things that each character deals with like abuse and the past. Between those themes and the romance this book was an amazing balance. Sure there were a few questionable moments for me, but that didn't take away from the fact that this was an A+ reading experience. The King family is one you need to meet and Frank Evans needs to be in your life for sure! Check this series out.
Make sure you add these to your TBR!
What kind of romance books are your go tos?
Related Posts