I was looking at some of my 5 star reads, some read almost 3 years ago, that I still need to review. I realized there are some books I love so much I'm not sure I will ever be able to put into words how I really felt about them so welcome to my new feature, Barely Have the Words. I can't adequately review this books since "READ IT" doesn't really tell you how it made me feel, but this is my start: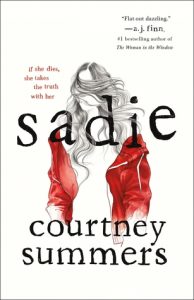 Sadie
by
Courtney Summers
Published by
Wednesday Books
Published:
September 4, 2018
Buy on Amazon
Add to Goodreads
A missing girl on a journey of revenge. A Serial―like podcast following the clues she's left behind. And an ending you won't be able to stop talking about.

Sadie hasn't had an easy life. Growing up on her own, she's been raising her sister Mattie in an isolated small town, trying her best to provide a normal life and keep their heads above water.

But when Mattie is found dead, Sadie's entire world crumbles. After a somewhat botched police investigation, Sadie is determined to bring her sister's killer to justice and hits the road following a few meager clues to find him.

When West McCray―a radio personality working on a segment about small, forgotten towns in America―overhears Sadie's story at a local gas station, he becomes obsessed with finding the missing girl. He starts his own podcast as he tracks Sadie's journey, trying to figure out what happened, hoping to find her before it's too late.

Courtney Summers has written the breakout book of her career. Sadie is propulsive and harrowing and will keep you riveted until the last page.
I received this book for free in exchange for an honest review. This does not affect my opinion of the book or the content of my review.
It has been months since I read this and I still can't accurately put my feelings into words. I know this is the best Courtney Summers book I have read to date and left me emotionally wrecked.  It is dark, and hard to read, and what can be ugly about the world, but it is a story of love and strength too. It broke my heart into tiny pieces and worth every sliver. Sadie was a broken girl and justice was her only way to deal with how truly demolished she was. But even with all the sadness and the pain Sadie is worth the read. Not only is the format awesome and something new/now, you will feel for these characters like you have never felt for fictional people before. This is a must read.
~~~~~~~~~~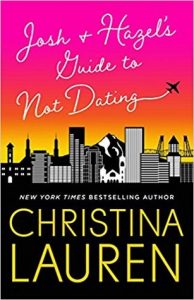 Josh and Hazel's Guide to Not Dating
by
Christina Lauren
Published by
Gallery Books
Published:
September 4, 2018
Buy on Amazon
Add to Goodreads
Hazel Camille Bradford knows she's a lot to take—and frankly, most men aren't up to the challenge. If her army of pets and thrill for the absurd don't send them running, her lack of filter means she'll say exactly the wrong thing in a delicate moment. Their loss. She's a good soul in search of honest fun.

Josh Im has known Hazel since college, where her zany playfulness proved completely incompatible with his mellow restraint. From the first night they met—when she gracelessly threw up on his shoes—to when she sent him an unintelligible email while in a post-surgical haze, Josh has always thought of Hazel more as a spectacle than a peer. But now, ten years later, after a cheating girlfriend has turned his life upside down, going out with Hazel is a breath of fresh air.

Not that Josh and Hazel date. At least, not each other. Because setting each other up on progressively terrible double blind dates means there's nothing between them...right?
I received this book for free in exchange for an honest review. This does not affect my opinion of the book or the content of my review.
I don't often give Christina Lauren books a 5 star rating. The highest to this point has been 4.5 stars. It isn't because I don't love them and enjoy my reading experience. It is mostly because there is that one thing in the story that ends up bugging me and taking away from the whole feel. Josh & Hazel's Guide to Not Dating didn't have that one thing. It was perfect, and I don't know what else to say about it. I have been trying to gather my thoughts since I finished in mid2018 and I just can't do it. What I can say is that I loved everything about it. I loved hos crazy Hazel was and how dumb Josh was. I loved their friendship and their not friendship. I loved there chemistry. Basically, I loved it and that is what it comes down to in the end.
~~~~~~~~~~
Coming Up for Air
by
Miranda Kenneally
Series:
Hundred Oaks #8
Published by
Sourcebooks Fire
Published:
July 4, 2017
Buy on Amazon
Add to Goodreads
Swim. Eat. Shower. School. Snack. Swim. Swim. Swim. Dinner. Homework. Bed. Repeat.

All of Maggie's focus and free time is spent swimming. She's not only striving to earn scholarships—she's training to qualify for the Olympics. It helps that her best friend, Levi, is also on the team and cheers her on. But Levi's already earned an Olympic tryout, so Maggie feels even more pressure to succeed. And it's not until Maggie's away on a college visit that she realizes how much of the "typical" high school experience she's missed by being in the pool.

Not one to shy away from a challenge, Maggie decides to squeeze the most out of her senior year. First up? Making out with a guy. And Levi could be the perfect candidate. After all, they already spend a lot of time together. But as Maggie slowly starts to uncover new feelings for Levi, how much is she willing to sacrifice in the water to win at love?
I received this book for free in exchange for an honest review. This does not affect my opinion of the book or the content of my review.
Coming Up for Air is one of the rare books that I have read twice (once as a draft) that I still can't find the words for. Part of the problem is it is Miranda Kenneally's last book in the Hundred Oaks series and that is so hard to capture in a review. The other problem is that I loved Maggie and Levi's relationship so much I can't really describe the love I have for it. This book was probably Miranda's funniest to date and her most sex positive and I still can't tell you exactly why I loved it. Does just saying "read this book and this companion series and be done with it" work because that is all I've got. Also Kenneally writes a cute boy.
~~~~~~~~~~
There's Someone Inside Your House
by
Stephanie Perkins
Published by
Dutton Books for Young Readers
Published:
September 26, 2017
Buy on Amazon
Add to Goodreads
Love hurts...

Makani Young thought she'd left her dark past behind her in Hawaii, settling in with her grandmother in landlocked Nebraska. She's found new friends and has even started to fall for mysterious outsider Ollie Larsson. But her past isn't far behind.

Then, one by one, the students of Osborne Hugh begin to die in a series of gruesome murders, each with increasingly grotesque flair. As the terror grows closer and her feelings for Ollie intensify, Makani is forced to confront her own dark secrets.
I received this book for free in exchange for an honest review. This does not affect my opinion of the book or the content of my review.
I read There's Someone Inside Your House almost 3 years ago, the days after I met Stephanie Perkins for the first time. The whole this was surreal and I think that is why I have had such a hard time reviewing it. I'm not a horror/slasher book kind of person but TSIYH was just fun (and I'm aware that is odd to say). It brought me back to those great Kevin Williamson written horror movies with some of those Stephanie Perkins' contemp moments. It is not the same experience as I had with Anna/Lola/Isla. It is a completely different book yet I still felt Steph when reading it. I can't really say much else because a) I don't want to give anything away from the book and b) I'm still kind of a loss for words from meeting Stephanie to reading the book right after. I just know I need something new from her and I need it now.
~~~~~~~~~~
These 'reviews' don't do the books justice, but I have no other way to describe them. In the end I leave you with…READ THEM!
What books to you love and can't review because you love them so much?
Related Posts