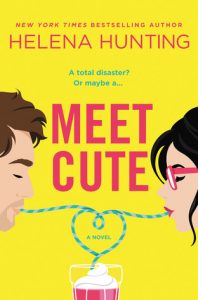 Meet Cute
by
Helena Hunting
Published by
Forever
Published:
April 9, 2019
Buy on Amazon
Add to Goodreads
Talk about an embarrassing introduction. On her first day of law school, Kailyn ran - quite literally - into the actor she crushed on as a teenager, ending with him sprawled on top of her. Mortified to discover the Daxton Hughes was also a student in her class, her embarrassment over their meet-cute quickly turned into a friendship she never expected. Of course, she never saw his betrayal coming either...

Now, eight years later, Dax is in her office asking for legal advice. Despite her anger, Kailyn can't help feeling sorry for the devastated man who just became sole guardian to his thirteen-year-old sister. But when her boss gets wind of Kailyn's new celebrity client, there's even more at stake than Dax's custody issues: if she gets Dax to work at their firm, she'll be promoted to partner.

The more time Kailyn spends with Dax and his sister, the more she starts to feel like a family, and the more she realizes the chemistry they had all those years ago is as fresh as ever. But will they be able to forgive the mistakes of the past, or will one betrayal lead to another?
I received this book for free in exchange for an honest review. This does not affect my opinion of the book or the content of my review.
I have only read a few books by Helena Hunting. I never really found my connection with her until I read The Good Luck Charm. I really enjoyed that one more than the first book I read by her. Because of my success reading The Good Luck Charm I was interested in reading Meet Cute and seeing if that one would be a hit as well. I'm happy to say that Meet Cute was not only a hit with me, but it is also my current favorite book by this author.
Meet Cute is a fun rom-com(ish) book about Kailyn and Daxton. Kailyn is just starting law school when she meets Daxton, a former TV heartthrob (and crush), who is also a law school student. After their awkward meeting, they become friendly rivals. That is until something happens and Kailyn wants nothing to do with him. Now years later they meet again with Daxton needs Kailyn's help with a family matter. Soon the banter is back and old feelings are once again sparked. Only this time it is Kailyn that may be pulling the wool over Dax's eyes when he needs her the most.
The thing about Meet Cute is once I started it, I had to finish it that day. To me, it was one of those books that it was so easy to fall into, to be invested in these characters and their lives and stories. Both Dax and Kailyn were such complex characters with great background stories that sucked me in. Plus I loved their chemistry, not to mention Dax's sister Emme. Everything just clicked and worked even with some heavier subject matter for a romance. I do admit everything could have been easier if they just talked, but there also wouldn't have been a book if they did so there is that.
All in all, Meet Cute is what I call a fun book! Sure the subject matter was heavier but the personalities of the two main characters and Emme made it an easier pill to swallow. Plus you can't go wrong with a book you can read in a day. Kudos to you Helena Hunting. Curious to see what you have for us next.
Related Posts