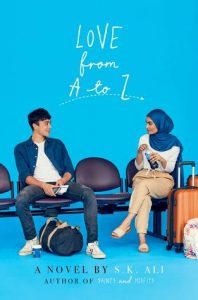 Love from A to Z
by
S.K. Ali
Published by
Salaam Reads
Published:
April 30, 2019
Buy on Amazon
Add to Goodreads
From William C. Morris Award Finalist S.K. Ali comes an unforgettable romance that is part The Sun Is Also a Star mixed with
Anna and the French Kiss
, following two Muslim teens who meet during a spring break trip.

A marvel: something you find amazing. Even ordinary-amazing. Like potatoes—because they make French fries happen. Like the perfect fries Adam and his mom used to make together.

An oddity: whatever gives you pause. Like the fact that there are hateful people in the world. Like Zayneb's teacher, who won't stop reminding the class how "bad" Muslims are.

But Zayneb, the only Muslim in class, isn't bad. She's angry.

When she gets suspended for confronting her teacher, and he begins investigating her activist friends, Zayneb heads to her aunt's house in Doha, Qatar, for an early start to spring break.

Fueled by the guilt of getting her friends in trouble, she resolves to try out a newer, "nicer" version of herself in a place where no one knows her.

Then her path crosses with Adam's.

Since he got diagnosed with multiple sclerosis in November, Adam's stopped going to classes, intent, instead, on perfecting the making of things. Intent on keeping the memory of his mom alive for his little sister.

Adam's also intent on keeping his diagnosis a secret from his grieving father.

Alone, Adam and Zayneb are playing roles for others, keeping their real thoughts locked away in their journals.

Until a marvel and an oddity occurs…

Marvel: Adam and Zayneb meeting.

Oddity: Adam and Zayneb meeting.
I received this book for free in exchange for an honest review. This does not affect my opinion of the book or the content of my review.
The description for Love from A to Z says, "…an unforgettable romance that is part The Sun Is Also a Star mixed with Anna and the French Kiss…". I was concerned when I read that. Anna and the French Kiss is my all-time favorite book so those are some really big shoes to fill. However, the book sounded too good to pass up, even if it scared me. Well, thank goodness I did because Love from A to Z was so heartbreakingly beautiful and I didn't want it to end.
Love from A to Z is a book about Adam and Zayneb, two teens from two different parts of the world. Besides both being Muslim, they have one thing in common, they journal in the same Marvels and Oddity notebooks. When these two randomly meet on their way to Doha, Qatar they end up on a journey they didn't expect and learning things about themselves and each other that will forever change them.
It is going to be really hard for me to put into words how amazing Love from A to Z is. Simply saying 'I loved it so much' doesn't seem to be enough, but I'm struggling to find the most accurate way to describe it.  I can tell you that Adam and Zayneb were magical together and as their own character. I can tell you that each of them had such strong stories that stood completely on their own, but bringing them together was like setting off fireworks. I can tell you that I cried in a place or 30 and peoples actions broke my heart. I can tell you that Adam had a rough road ahead of him but he was dealing with it with grace. And I can tell you that Zayneb should never have dealt with the discrimination she faced on the daily, and she had every right to feel the anger she did.
To simply say that Love from A to Z was fantastic is doing it a disservice. It was a beautifully written story about life, love, and disappointment. It was about two teens that find each other when they needed each other the most. In the end, it is a book that all I can say is…READ IT!
Mon, April 29 – Utopia State of Mind
Tues, April 30 – Andi's ABCs
Weds, May 1 – Runaway with Dreamthieves
Thurs, May 2 – Take Me Away
Fri, May 3 – Vicky Who Reads
Sat, May 4 – Book Scents
Mon, May 6 – Mary Had A Little Book Blog
Tues, May 7 – As Told by Zaheerah
Weds, May 8 – The Infinite Limits of Love
Thurs, May 9 – Pop! Goes the Reader
Fri, May 10 – Rich in Color
Mon, May 13 – Actin' Up With Books
Tues, May 14 – Kaitlyn Gosiaco's Blog
Weds, May 15 – It Starts at Midnight
Thurs, May 16 – Sleepy Sam Reads
Fri, May 17 – Wishful Endings
Related Posts