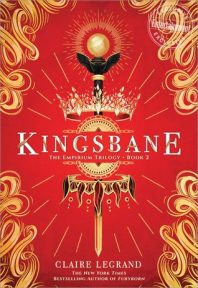 Kingsbane
by
Claire Legrand
Published by
Sourcebooks Fire
Published:
May 21, 2019
Buy on Amazon
Add to Goodreads
In this sequel to the instant New York Times bestseller Furyborn, two queens, separated by a thousand years, connected by secrets and lies, must continue their fight amid deadly plots and unthinkable betrayals that will test their strength―and their hearts.

Rielle Dardenne has been anointed Sun Queen, but her trials are far from over. The Gate keeping the angels at bay is falling. To repair it, Rielle must collect the seven hidden castings of the saints. Meanwhile, to help her prince and love Audric protect Celdaria, Rielle must spy on the angel Corien―but his promises of freedom and power may prove too tempting to resist.

Centuries later, Eliana Ferracora grapples with her new reality: She is the Sun Queen, humanity's long-awaited savior. But fear of corruption―fear of becoming another Rielle―keeps Eliana's power dangerous and unpredictable. Hunted by all, racing against time to save her dying friend Navi, Eliana must decide how to wear a crown she never wanted―by embracing her mother's power, or rejecting it forever.
I received this book for free in exchange for an honest review. This does not affect my opinion of the book or the content of my review.
Finding a way to review Kingsbane is basically impossible. First and foremost this book almost killed me. Not because it is almost 600 pages (those big books can be dangerous!!!) but because it took all my emotions and threw them in a blender and then tried to make me choke on them. I know, I know, it sounds dramatic, but trust me, it's not. I was terrified to finish Kingsbane. So much so that it took me a solid month to read it. I was scared where Claire would leave off and when all is said and done, I was right to be afraid. This book took me on an emotional roller coaster and the ride still is not done.
I honestly have no idea what to say about this book. I'm still kind of broken by the whole ordeal. Kingsbane picks up right where Furyborn left off and it doesn't slow down. Eliana and Rielle are both fighting a war centuries apart and the decisions they make will in some way affect the other.  Both women are on their own journeys and trying to find a way. Rielle thinks she knows what she is supposed to do and what side she is on, but she has forces working against her. Eliana on the other hand just learned her role in this sordid story and is grappling what that means to her and for her family and friends around her. Every decision these women make has repercussions and consequences and you can feel that with every turn of the page.
The truth for me with Kingsbane is I was more invested in Eliana's story. Don't get me wrong, Rielle has a great story and I really think it is going to hit its stride in book 3, but for me, Kingsbane was about Eliana. Her world was the one that changed the most. She had the rug pulled out from under her and was left to pick up the pieces and figure it all out which relying on people she was just learning to trust. Plus I really love all of her supporting characters more than Rielle's (minus Audric). But the thing about Eliana's story is I have no idea where it is going. Rielle you know because it is in the past so you have a road map, but Eliana you have no idea what is coming and how it will all go down.
Without saying too much, this book was amazing. There was a twist that took place that I am still reeling from. Did I love it as much as Furyborn? No. That book was super special to me. But I did think it was awesome. It set up everything that will go down in book 3 to perfection and I personally cannot wait to see how it all ends…if the wait doesn't kill me first that is. Definitely, a series that needs to be read.
Related Posts