There is no denying that I am a fan of Suzanne Young. Everything she has written I have loved. She manages to craft these worlds that are so familiar and comforting but adds an element that completely turns the world upside down. I have become very lucky over the years and have gotten to know Suzanne and she is just as amazing as her books. In 2018 she sent me a draft of the first book in her new duology, Girls with Sharp Sticks, and the day she sent it to me I devoured all 400 pages, not stopping until I was finished with every word. It was by far the best book she has ever written and I told her so. It was creepy and entertaining and a story you just didn't expect. It was also timely in a sense and something a lot of people will want to read. And if you haven't read it yet, stay until the end for your chance to win a copy.
Anyway, since finishing Girls with Sharp Sticks I have been dying for Girls with Razor Hearts, the follow-up book. Suzanne has been kind enough to share some of it with me as a draft and guys…IT IS SO GOOD! I haven't gotten to read the end, but I have read about 75% of the first go and it is just beyond words good. And on Friday the cover was released for it and it perfect is so perfect.
How amazing do they look together? I'm obsessed! Here is a little more about Girls with Razor Hearts: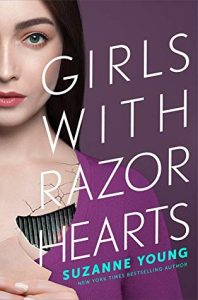 Girls with Razor Hearts
by
Suzanne Young
Series:
Girls with Sharp Sticks #2
Published by
Simon Pulse
Published:
March 17, 2020
Buy on Amazon
Add to Goodreads
It's time to fight back in this second novel in a thrilling, subversive near future series from New York Times bestselling author Suzanne Young about a girls-only private high school that is far more than it appears to be.

Make me a girl with a razor heart…

It's been weeks since Mena and the other girls of Innovations Academy escaped their elite boarding school. Although traumatized by the violence and experimentations that occurred there, Mena quickly discovers that the outside world can be just as unwelcoming and cruel. With no one else to turn to, the girls only have each other—and the revenge-fueled desire to shut down the corporation that imprisoned them.

The girls enroll in Stoneridge Prep, a private school with suspect connections to Innovations, to identify the son of an investor and take down the corporation from the inside. But with pressure from Leandra, who revealed herself to be a double-agent, and Winston Weeks, an academy investor gone rogue, Mena wonders if she and her friends are simply trading one form of control for another. Not to mention the woman who is quite literally invading Mena's thoughts—a woman with extreme ideas that both frighten and intrigue Mena.

And as the girls fight for freedom from their past—and freedom for the girls still at Innovations—they must also face new questions about their existence…and what it means to be girls with razor hearts.

The winner receives 1 copy of Girls with Sharp Sticks by Suzanne Young. Ends at 11:59PM EST on August 5th and is US ONLY. Must be 16 or over to enter.
Related Posts