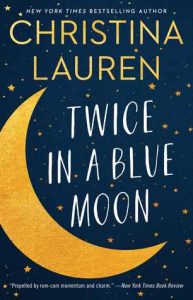 Twice in a Blue Moon
by
Christina Lauren
Published by
Gallery Books
Published:
October 22, 2019
Buy on Amazon
Add to Goodreads
As an adventurous send-off to her childhood, eighteen-year-old Tate Jones travels with her grandmother from their small town in Northern California to London. But the vacation of a lifetime is wonderfully derailed by the appearance of two charming Vermont farmers: grandfather Luther and his handsome grandson Sam.

Sam and Tate fall hard and fast. For two glorious weeks, the couple share their hopes, dreams, and secrets. Sam admits he suspects his grandfather is dying and that this could be the last trip they take together, and Tate reveals that she is the hidden daughter of one of the biggest film stars in the world—a secret she's never told anyone before.

But when Tate is exposed by a crush of cameras and reporters, she knows she's been betrayed by the one person she thought she could trust. She is forced to decide whether she will return to her quiet life or embrace being in the public eye. So when Sam reappears in her world more than a decade later, can Tate forgive the past and rekindle the passion they shared on their magical trip abroad? And does she even want to?
I received this book for free in exchange for an honest review. This does not affect my opinion of the book or the content of my review.
What to say about Twice in a Blue Moon. I'm not going to lie, I enjoyed this enough and had a mostly fun time reading it, but when I hit about the 75% mark the book took a drastic turn for me and I didn't love it as much as I originally was. Sam and Tate had a great relationship and I could see their chemistry but the end of this one really threw me for a loop and it took so much away from what I was loving to begin with. Long after I read it I am still wondering what was the point of some of the stuff that went down in the end. I also didn't love how we didn't really get to know Tate as Tate and not this actress. I guess in the end this was just not what I expected from the minds of Christina Lauren. It was good, but not the best. Something was missing for me.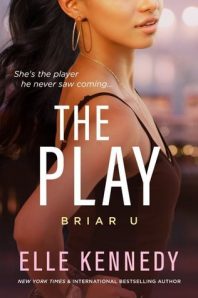 The Play
by
Elle Kennedy
Series:
Briar U #3
Published:
October 7, 2019
Buy on Amazon
Add to Goodreads
A brand-new standalone novel in the New York Times bestselling Briar U series!

What I learned after last year's distractions cost my hockey team our entire season? No more screwing up. No more screwing, period. As the new team captain, I need a new philosophy: hockey and school now, women later. Which means that I, Hunter Davenport, am officially going celibate…no matter how hard that makes things.

But there's nothing in the rulebook that says I can't be friends with a woman. And I won't lie—my new classmate Demi Davis is one cool chick. Her smart mouth is hot as hell, and so is the rest of her, but the fact that she's got a boyfriend eliminates the temptation to touch her.

Except three months into our friendship, Demi is single and looking for a rebound.

And she's making a play for me.

Avoiding her is impossible. We're paired up on a yearlong school project, but I'm confident I can resist her. We'd never work, anyway. Our backgrounds are too different, our goals aren't aligned, and her parents hate my guts.

Hooking up is a very bad idea. Now I just have to convince my body—and my heart.
I received this book for free in exchange for an honest review. This does not affect my opinion of the book or the content of my review.
I always get so excited when Elle Kennedy releases a new Briar book. I know that not only will we get new, fun characters, we will get to see some old favorites. But The Play was a little more than that for me. Basically The Play made Hunter my the new Dean(from The Score)! He made me laugh so much with some of the things he said and did I couldn't help but be reminded of my favorite Elle character, Dean Di Laurentis. And Hunter and Demi together were fire. They had such a great, natural chemistry and I loved how it started with a friendship. With that said, there was a part toward the end that I wasn't crazy about and seemed a little out of left field and I think there could have been drama added another way. But all in all I loved this one a lot and look forward to more in the Briar universe for sure. FYI, this is a long one so be prepared.
Moonlighter
by
Sarina Bowen
Series:
The Company #1
Published by
Tuxbury Publishing LLC
Published:
October 21, 2019
Buy on Amazon
Add to Goodreads
Only in my family could a professional hockey player earning seven million dollars a year be considered a slacker.

I'm at the height of my athletic career. Yet my arrogant brother is always trying to recruit me into the family business: a global security company so secretive that I don't even know its name.

Pass, thanks. I don't need a summer job.

But the jerk ambushes me with a damsel in distress. That damsel is Alex, the competitive, sassy girl I knew when we were kids. Now she's a drop-dead gorgeous woman in deep trouble.

So guess who's on a flight to Hawaii?

It's going to be a long week in paradise. My job is keeping Alex safe, while her job is torturing me with her tiny bikinis. Or maybe we're torturing each other. It's all snark and flirting until the threat against Alex gets serious. And this jock must become her major league protector.

Moonlighter is a stand-alone novel. No cliffhangers, no prior experience necessary. Contains: hackers, hockey players, and a hotel room with only one bed.
So far my all time favorite book in the Brooklyn Bruiser universe has been Brooklynaire. I loved that the moment I read and I loved it even more when I read it again. So I was super excited to hear we were getting a book about Alex, a friend of Nate that appeared in Brooklynaire. She had an interesting character arc in Nate's story so I was curious where that would lead. Well in Moonlighter we find out and let me tell you it was worth the wait. Alex's journey is amazing and seeing her interact with Bayer was even better. The two of them together definitely brought out sides the other needed to show. They were a fantastic couple that had oodles of chemistry and were a pleasure to read. You could really see their history when they were around each other and I for one loved that, that natural vibe between them. I do think the book was a tad long with some stuff happening that didn't feel needed, and some stuff I still want answers on (I hope that is to come in more books), but all in all it was a seriously fun read and one I think you need to pick up.
Related Posts