The Worst Best Man
by
Mia Sosa
Published by
Avon
Published:
February 4, 2020
Buy on Amazon
Add to Goodreads
A wedding planner left at the altar. Yeah, the irony isn't lost on Carolina Santos, either. But despite that embarrassing blip from her past, Lina's managed to make other people's dreams come true as a top-tier wedding coordinator in DC. After impressing an influential guest, she's offered an opportunity that could change her life. There's just one hitch… she has to collaborate with the best (make that worst) man from her own failed nuptials.

Tired of living in his older brother's shadow, marketing expert Max Hartley is determined to make his mark with a coveted hotel client looking to expand its brand. Then he learns he'll be working with his brother's whip-smart, stunning—absolutely off-limits—ex-fiancée. And she loathes him.

If they can survive the next few weeks and nail their presentation without killing each other, they'll both come out ahead. Except Max has been public enemy number one ever since he encouraged his brother to jilt the bride, and Lina's ready to dish out a little payback of her own.

But even the best laid plans can go awry, and soon Lina and Max discover animosity may not be the only emotion creating sparks between them. Still, this star-crossed couple can never be more than temporary playmates because Lina isn't interested in falling in love and Max refuses to play runner-up to his brother ever again...
I received this book for free in exchange for an honest review. This does not affect my opinion of the book or the content of my review.
Brothers liking the same girl can easily be a hit or miss with me. The author really has to nail it for me to buy into it because if they don't it can come off a gross and creepy.  Mia Sosa is one of the ones that has nailed it. Lina and Max had such an unexpected chemistry that felt natural and had nothing to do with his brother, Lina's ex-fiancé. The story definitely wasn't perfect and it had one small head scratching moment for me, but I devoured this book and loved it. It was engaging and charming and had a great rom-com vibe. I keep going back and forth between 4 and 4.5 stars, but in the end it doesn't really matter. All that matters is that you pick this one up and enjoy. This may have been my first Mia Sosa book, but it won't be my last.

Would Like to Meet
by
Rachel Winters
Published by
G.P. Putnam's Sons
Published:
December 3, 2019
Buy on Amazon
Add to Goodreads
In this charming, feel-good debut novel, a cynical assistant at a screenwriting agency must reenact the meet-cute scenes from classic romantic comedy movies in order to help her #1 client get his scriptwriting mojo back--but can a real-life meet-cute be in store for someone who doesn't believe in happily ever after?

After seven years as an assistant, 29-year-old Evie Summers is ready to finally get the promotion she deserves. But now the TV and film agency she's been running behind the scenes is in trouble, and Evie will lose her job unless she can convince the agency's biggest and most arrogant client, Ezra Chester, to finish writing the script for a Hollywood romantic comedy.

The catch? Ezra is suffering from writer's block--and he'll only put pen to paper if singleton Evie can prove to him that you can fall in love like they do in the movies. With the future of the agency in jeopardy, Evie embarks on a mission to meet a man the way Sally met Harry or Hugh Grant met Julia Roberts.

But in the course of testing out the meet-cute scenes from classic romantic comedies IRL, not only will Evie encounter one humiliating situation after another, but she'll have to confront the romantic past that soured her on love. In a novel as hilarious as it is heartwarming, debut author Rachel Winters proves that sometimes real life is better than the movies--and that the best kind of meet-cutes happen when you least expect them.
I received this book for free in exchange for an honest review. This does not affect my opinion of the book or the content of my review.
Would Like to Meet was an interesting reading experience for me. I really enjoyed almost the entire book. I loved that I had no idea who I was supposed to root for or who the love interest was. Don't get me wrong, it was not a love triangle at all, but it truly was hard to tell for about 75% of the book. What got me was that it was so hard to tell I didn't feel like I got enough of the romantic pay off at the end. It all felt so rushed and forced once you knew who Evie was supposed to end up with. That was a struggle for me and took away from the story because I didn't get to see what they would be like as a couple. I also didn't love Evie's friends. I thought they were extra hard on her and kind of had higher standards for her and I wasn't into that. I just wanted them to be supportive of the things going on in her life like she was for them. All in all this was mostly a delight and I would recommend.  And I truly promise there is no love triangle, just an interesting style on writing the love interest.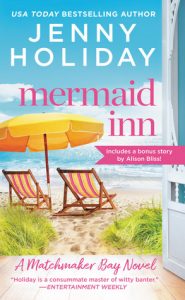 Mermaid Inn
by
Jenny Holiday
Series:
Matchmaker Bay #1
Published by
Forever
Published:
January 28, 2020
Buy on Amazon
Add to Goodreads
Eve Abbott has a problem-actually, make that a lot of problems. And they're all going to get worse the moment her toes hit the sand in Matchmaker Bay. Once a blissful summer escape, now the tiny town just reminds Eve of loss. Inheriting her aunt's beloved Mermaid Inn is the only reason Eve is coming back. She's definitely not ready to handle nosy neighbors, extensive renovations, or the discovery that a certain heartbreaker still lives down the street...

Police Chief Sawyer Collins always does the right thing, even when it costs him everything. Like Evie. He's spent the past ten years trying to forget her--to forget how right she felt in his arms, to forget the pain in her eyes the day she left. The last thing he expects is to see her back in town or to find that the spark between them is as strong as ever. Sawyer knows this is his only chance to prove that his feelings have always been real... before Eve turns tail and leaves for good.
I received this book for free in exchange for an honest review. This does not affect my opinion of the book or the content of my review.
On the surface Mermaid Inn sounds like your typical second chance romance, but what I found inside was actually so much for than that. Sure it had all the great components of a romance. It had the hate to love banter and the back and forth and the uncertainty. But it also had a really good message to not forget you have a voice. It sounds corny but it really did take inspiration from The Little Mermaid in saying you always have a voice and you can use the voice to get what you want out of life, to be the person you want to me, to tell the people you love that you love them, to get a say in how your life will turn out. That was the magic of Mermaid Inn for me. Did I love Eve and Sawyer together? They were amazing. They had fantastic chemistry and just got each other, especially when they started talking. Also didn't hurt that Sawyer was a hot cop and a genuinely good guy. J But seriously, there is so much more to Mermaid Inn than just a second chance romance. I definitely recommend picking it up and seeing for yourself. I know I'm really excited to revisit this town again in book 2.
Related Posts