I'm a pre-order fanatic, especially for authors I know that I love and books I may have already read but need to have as a finished copy on my shelf and this is why I have no shelf space, but I don't even care. There is something so nice about ordering a book months and months in advance and then have that gorgeous, shiny new item waiting for you in the mail just looking for a new place of honor. Currently I have 10 (11 if you count the eBook of House of Earth and Blood) on pre-order. Out of the 10 I have read 4 and have ARCs of 2 others that I can't wait to read.
Here are the 10 books  that will be making their way to my shelf in 2020:
Talk Nerdy to Me – Tiffany Schmidt

Eliza takes center stage in this swoon-worthy third installment of the Bookish Boyfriends series

Eliza Gordon-Fergus is an expert rule-follower. She has to be; her scientist parents dictate her day-to-day decisions, and forbid her from dating. Which is why she finds Curtis Cavendish maddening. He's never punished for his class clown antics—and worse, his mischief actually masks brilliance. Like, give-Eliza-a-run-for-valedictorian brilliance.

When Eliza reads Frankenstein for English class, she's left feeling more like an experiment than a daughter. Curtis agrees to trade her Anne of Green Gables under one condition: She has to beat him at the science fair. Eliza knows they're supposed to be competing, but the more time they spend together, the more she realizes she's in over her head. Because one thing's certain about Curtis: He makes Eliza want to break all the rules.

Available May 16, 2020

Ghosting: A Love Story – Tash Skilton

Leave it to the experts—to break all the rules.

Online Dating Ghostwriting Rules to Live by

MILES
Dumped by his fiancée, not only is Miles couch-surfing across New York City, but downsizing has forced him to set up shop at a café. Also, he no longer believes in love. Not a good look in his line of work . . .

Do not present a "perfect" image. No one will trust it. Nor should they.

ZOEY
Zoey's eccentric L.A. boss sent her packing to New York to "grow." But beneath her chill Cali demeanor, Zoey's terrified to venture beyond the café across the street . . .

Think of your quirks—such as cosplaying B-movies from the 1980s—as a "Future Honesty." Save these as a reward only for those who prove worthy.

The only thing Miles and Zoey share is their daily battle for Café Crudite's last day-old biscotti. They don't know they're both ghostwriting "authentic" client profiles for rival online dating services. Nope, they have absolutely nothing in common. . .

Until they meet anonymously online, texting on the clock . . .

Never remind the client you're their Cyrano. Once you've attracted a good match, let the client take over ASAP.

Soon, with their clients headed for dating disaster, both Miles and Zoey's jobs are at stake. And once they find out their lines have crossed, will their love connection be the real thing—or vanish into the ether?

Available May 26, 2020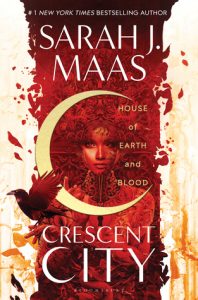 House of Earth and Blood – Sarah J. Maas

Bryce Quinlan had the perfect life—working hard all day and partying all night—until a demon murdered her closest friends, leaving her bereft, wounded, and alone. When the accused is behind bars but the crimes start up again, Bryce finds herself at the heart of the investigation. She'll do whatever it takes to avenge their deaths.

Hunt Athalar is a notorious Fallen angel, now enslaved to the Archangels he once attempted to overthrow. His brutal skills and incredible strength have been set to one purpose—to assassinate his boss's enemies, no questions asked. But with a demon wreaking havoc in the city, he's offered an irresistible deal: help Bryce find the murderer, and his freedom will be within reach.

As Bryce and Hunt dig deep into Crescent City's underbelly, they discover a dark power that threatens everything and everyone they hold dear, and they find, in each other, a blazing passion—one that could set them both free, if they'd only let it.

Available March 3, 2020

Four Days of You and Me – Miranda Kenneally

A new swoon-worthy romance following a couple's love story on the same date over four years.

Every May 7, the students at Coffee County High School take a class trip. And every year, Lulu's relationship with Alex Rouvelis gets a little more complicated. Freshman year, they went from sworn enemies to more than friends after a close encounter in an escape room. It's been hard for Lulu to quit Alex ever since.

Through breakups, make ups, and dating other people, each year's class trip brings the pair back together and forces them to confront their undeniable connection. From the science museum to an amusement park, from New York City to London, Lulu learns one thing is for sure: love is the biggest trip of all.

Available May 5, 2020

Girls with Razor Hearts – Suzanne Young

Make me a girl with a razor heart…

It's been weeks since Mena and the other girls of Innovations Academy escaped their elite boarding school. Although traumatized by the violence and experimentations that occurred there, Mena quickly discovers that the outside world can be just as unwelcoming and cruel. With no one else to turn to, the girls only have each other—and the revenge-fueled desire to shut down the corporation that imprisoned them.

The girls enroll in Stoneridge Prep, a private school with suspect connections to Innovations, to identify the son of an investor and take down the corporation from the inside. But with pressure from Leandra, who revealed herself to be a double-agent, and Winston Weeks, an academy investor gone rogue, Mena wonders if she and her friends are simply trading one form of control for another. Not to mention the woman who is quite literally invading Mena's thoughts—a woman with extreme ideas that both frighten and intrigue Mena.

And as the girls fight for freedom from their past—and freedom for the girls still at Innovations—they must also face new questions about their existence…and what it means to be girls with razor hearts.

Available March 17, 2020

Chasing Lucky – Jenn Bennett

Sometimes to find the good, you have to embrace the bad.

Budding photographer Josie Saint-Martin has spent half her life with her single mother, moving from city to city. When they return to her historical New England hometown years later to run the family bookstore, Josie knows it's not forever. Her dreams are on the opposite coast, and she has a plan to get there.

What she doesn't plan for is a run-in with the town bad boy, Lucky Karras. Outsider, rebel…and her former childhood best friend. Lucky makes it clear he wants nothing to do with the newly returned Josie. But everything changes after a disastrous pool party, and a poorly executed act of revenge lands Josie in some big-time trouble—with Lucky unexpectedly taking the blame.

Determined to understand why Lucky was so quick to cover for her, Josie discovers that both of them have changed, and that the good boy she once knew now has a dark sense of humor and a smile that makes her heart race. And maybe, just maybe, he's not quite the brooding bad boy everyone thinks he is…

Available May 5, 2020

Wylde – Sawyer Bennett

There's a reason they call me Wylde and it's not just because it's my last name.

I might be one of the newest players on the Arizona Vengeance team, but I'm no stranger to the celebrity that goes along with being a professional hockey player. Whether it's a fan seeking an autograph or a puck bunny looking for more, I've grown used to the attention. I not only thrive on it; I use it to my advantage. Let's just say my bed is rarely empty.

When a quirky redhead at the local bookstore stops me dead in my tracks, I decide to pop in and turn on the trusty Wylde magic. As smart and strong-willed as she is beautiful, Clarke Webber isn't swayed by my witty banter or charming good looks. And when she realizes who I am and the fame that comes along with it, she likes me even less. Thankfully, I'm always up for a challenge. The more I get to know about her, the more I know my playboy days are behind me.

If I'm going to capture Clarke's heart, it's time to be a lot less Wylde, and a lot more Aaron.

Available May 12, 2020

The Assignment – Liza Wiemer

Senior year. When an assignment given by a favorite teacher instructs a group of students to argue for the Final Solution, a euphemism used to describe the Nazi plan of genocide of the Jewish people, Logan March and Cade Crawford are horrified. Their teacher cannot seriously expect anyone to complete an assignment that fuels intolerance and discrimination. Logan and Cade decide they must take a stand.

As the school administration addresses the teens' refusal to participate in the appalling debate, the student body, their parents, and the larger community are forced to face the issue as well. The situation explodes, and acrimony and anger result. What does it take for tolerance, justice, and love to prevail?

In the vein of the classic The Wave, this riveting novel explores discrimination and antisemitism and reveals their dangerous impact. Inspired by a true incident, The Assignment will remind readers that they have choices—and those choices can make a difference.

Available August 25, 2020

The Happy Ever After Playlist – Abby Jimenez

From the USA Today bestselling author of The Friend Zone comes an adorable and fresh romantic comedy about one trouble-making dog who brings together two perfect strangers.

Two years after losing her fiancé, Sloan Monroe still can't seem to get her life back on track. But one trouble-making pup with a "take me home" look in his eyes is about to change everything. With her new pet by her side, Sloan finally starts to feel more like herself. Then, after weeks of unanswered texts, Tucker's owner reaches out. He's a musician on tour in Australia. And bottom line: He wants Tucker back.

Well, Sloan's not about to give up her dog without a fight. But what if this Jason guy really loves Tucker? As their flirty texts turn into long calls, Sloan can't deny a connection. Jason is hot and nice and funny. There's no telling what could happen when they meet in person. The question is: With his music career on the rise, how long will Jason really stick around? And is it possible for Sloan to survive another heartbreak?

Available April 14, 2020

Lightbringer – Claire Legrand

In this epic finale to the Empirium Trilogy from New York Times bestselling author Claire Legrand, two queens, separated by a thousand years must face their ultimate destinies.

Queen Rielle, pushed away from everything she loves, turns to Corien and his promises of glory. Meanwhile, whispers from the empirium slowly drive her mad, urging her to open the Gate. Separated from Audric and Ludivine, she embraces the role of Blood Queen and her place by Corien's side, determined to become the monster the world believes her to be.

In the future, Eliana arrives in the Empire's capital as a broken shell of herself. Betrayed and abandoned, she fights to keep her power at bay―and away from Corien, who will stop at nothing to travel back in time to Rielle, even if that means destroying her daughter.

But when the mysterious Prophet reveals themselves at last, everything changes, giving Rielle and Eliana a second chance for salvation―or the destruction their world has been dreading.

Available October 13, 2020

*click on the cover to pre-order from Amazon or to learn more
Do you have any books on pre-order? Are you excited for any of these?
Related Posts