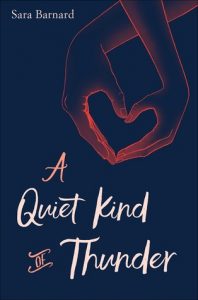 A Quiet Kind of Thunder
by
Sara Barnard
Published by
Simon Pulse
Published:
January 9, 2018
Buy on Amazon
Add to Goodreads
A girl who can't speak and a boy who can't hear go on a journey of self-discovery and find support with each other in this gripping, emotionally resonant novel from bestselling author Sara Barnard. Perfect for fans of Morgan Matson and Jandy Nelson.

Steffi doesn't talk, but she has so much to say.
Rhys can't hear, but he can listen.

Steffi has been a selective mute for most of her life. The condition's name has always felt ironic to her, because she certainly does not "select" not to speak. In fact, she would give anything to be able to speak as easily and often as everyone around her can. She suffers from crippling anxiety, and uncontrollably, in most situations simply can't open her mouth to get out the words.

Steffi's been silent for so long that she feels completely invisible. But Rhys, the new boy at school, sees her. He's deaf, and her knowledge of basic sign language means that she's assigned to help him acclimate. To Rhys, it doesn't matter that Steffi doesn't talk. As they find ways to communicate, Steffi discovers that she does have a voice, and that she's falling in love with the one person who makes her feel brave enough to use it. But as she starts to overcome a lifelong challenge, she'll soon confront questions about the nature of her own identity and the very essence of what it is to know another person.
I received this book for free in exchange for an honest review. This does not affect my opinion of the book or the content of my review.
In May of 2017 I added A Quiet Kind of Thunder to my TBR. I'm not sure if it was recommended to me or if I saw something in the description that I wanted to read more about, but I just know I added it to my ever growing list and there is sat. Actually it sat there for 2 years even while I had a copy readily available to me. And then in November of 2019 I was looking for a Q book to read for a reading challenge. I hit up my trusty TBR list and the first book that jumped out at me…A Quiet Kind of Thunder. Let's just say when I was finished I was so mad at myself for waiting as long as I did. This book was freaking AMAZING!
A Quiet Kind of Thunder is about two teenagers who have each have their struggle but find comfort with each other. First you have Steffi, a selective mute, that is dying to use her voice but can't because of the crippling anxiety she has. She would love to open her mouth and tell people what she thinks and feels but she physically can't bring herself to do it. Enter Rhys, the new boy in school who happens to be deaf. When Steffi is assigned to show Rhys the ropes, due to her limited knowledge of sign language, she finds there is someone that is finally seeing her for who she is. She may not be able to speak and he may not be able to hear, but there is magic in their silence and possibly something more.
This book blew me away, took me so completely by surprise. I was 12% in and I knew I loved Steffi's voice even if she barely used it. I could feel her anguish of wanting to speak but not being able to get past her anxiety. I think on some level everyone feels that to some degree at some situation in their life and that made Steffi all the more relatable. And her relationship with Rhys was all the more beautiful because of it. They got each other in a way that no one else really would have understood. Rhys couldn't hear Steffi so she didn't need to use her voice around him to convey what she was thinking or feeling. It was such a significantly gorgeous relationship and I never wanted the story to end.
What A Quiet Kind of Thunder did for me was remind me of everything I love about a Young Adult contemporary book. It hit all the marks and made me fall completely head-over-heels for these characters. The chemistry and struggles of these two teens left such an impact on me. I walked away thinking…why didn't I read you sooner?!?! Honestly can't wait to see what else Bernard publishes. Pick this one up ASAP.
Related Posts