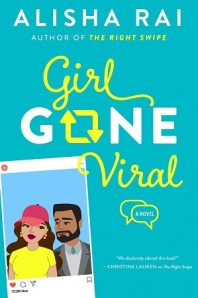 Girl Gone Viral
by
Alisha Rai
Series:
Modern Love #2
Published by
Avon
Published:
April 21, 2020
Buy on Amazon
Add to Goodreads
In Alisha Rai's second novel in her Modern Love series, a live-tweet event goes viral for a camera-shy ex-model, shoving her into the spotlight—and into the arms of the bodyguard she'd been pining for.

OMG! Wouldn't it be adorable if he's her soulmate???
I don't see any wedding rings [eyes emoji]
Breaking: #CafeBae and #CuteCafeGirl went to the bathroom AT THE SAME TIME!!!

One minute, Katrina King's enjoying an innocent conversation with a hot guy at a coffee shop; the next, a stranger has live-tweeted the entire episode with a romantic meet-cute spin and #CafeBae is the new hashtag-du-jour. The problem? Katrina craves a low-profile life, and going viral threatens the peaceful world she's painstakingly built. Besides, #CafeBae isn't the man she's hungry for.

He's got a [peach emoji] to die for.

With the internet on the hunt for the identity of #CuteCafeGirl, Jas Singh, bodyguard, friend, and possessor of the most beautiful eyebrows Katrina's ever seen, comes to the rescue and whisks her away to his family's home. Alone in a remote setting with the object of her affections? It's a recipe for romance. But after a long dating dry spell, Katrina isn't sure she can trust her instincts when it comes to love—even if Jas' every look says he wants to be more than just her bodyguard…
I received this book for free in exchange for an honest review. This does not affect my opinion of the book or the content of my review.
I have been a fan of Alisha Rai for a while now. I loved her Forbidden Hearts series and really enjoyed The Right Swipe. So reading Girl Gone Viral was a no-brainer. As soon as I heard about it I wanted it. Kat had intrigued me from the get-go and I really wanted to read her story. And boy to Rai nail it. Girl Gone Viral was just the book I wanted for Kat. It was amazing!
Girl Gone Viral is about Rhiannon's friend/roommate Katrina King. We were first introduced to her in The Right Swipe. She has become kind of a recluse after an incident in her past but is slowly making strides to change that. But when Kat is at a coffee shop she has become comfortable and agrees to share her table with a stranger the encounter becomes viral and all Kat wants to do it run and run she does with her bodyguard Jas Singh. The problem is, she has had a crush on Jas for years and doesn't know he has one of her two. Now the two of them are living in tighter quarters while really getting to know one another. And man do the sparks fly.
It is hard to place what I loved about Girl Gone Viral. I just found the story so delightful and addictive. Kat and Jas were an amazing friends to lovers story and I couldn't get enough of them. They had a natural chemistry and a strong friendship. It was great to see Kat learn more about Jas' life after him knowing everything about her for years. I found there was a mutual respect between the two even though Jas was technically an employee. Plus I loved seeing Kat stop running from her fears and face them her own way.
In the end Girl Gone Viral was not perfect. I found the end to be rushed but I loved everything else that it felt perfect to me. Jas and Kat were just the story I needed at a time I needed it and I think it will be the same for you. Definitely get this one on your TBR.
Related Posts