I have been trying to read some Netgalley books I have had around on my TBR for a while. This month I read a handful. Today I'm sharing reviews for 3 of that handful.
Inherit Midnight
by
Kate Kae Myers
Published by
Bloomsbury USA Childrens
Published:
February 10, 2015
Buy on Amazon
Add to Goodreads
The Competition
Seventeen-year-old Avery VanDemere's ridiculously wealthy grandmother has decided to leave the family fortune to the relative who proves him or herself worthiest--by solving puzzles and riddles on a whirlwind race around the globe.

The Contenders
For Avery, the contest offers a chance to escape. As the black sheep of the VanDemere clan--the illegitimate daughter, sent away to boarding school--she'd love to use that prize money to run away from the family who ostracized her . . . and discover the truth about her long-lost mother.

Marshall might be Avery's uncle by blood, but there's no love lost between them. He'll do anything to win, even if it means turning on his own children.

Riley is the charming son of Grandmother VanDemere's lawyer. As the game progresses, Avery finds herself drawn to him--even though she isn't quite sure she can trust him.

The Winner?
Treacherous turns in the competition serve as brutal reminders that only one person can win it all. Is Avery willing to risk both her heart and her life to claim the grand prize?
I received this book for free in exchange for an honest review. This does not affect my opinion of the book or the content of my review.
Inherit Midnight has been on my TBR since what feels like forever. I have had it on my Kindle for about 5 years at least and I have always been meaning to read it. It sounded like a book that would be totally my thing. A mix of The Amazing Race with a hint of my favorite middle grade book, The Westing Game. All the pieces were there but unfortunately it didn't live up to what I was expecting. Instead of a solid adventure story that was also a mystery I got something muddled. Everything felt so convent and cliche which completely disappointed me. It was a fast read, there is no doubt about that and I didn't struggle reading it, but all in all it was kind of dull and nothing like The Amazing Race vibe I was sold on. Definitely not a favorite of mine, but doesn't mean you might not enjoy it. Honestly I'm just happy to have read it because I was holding on to it for a long time.

The Last Summer of the Garrett Girls
by
Jessica Spotswood
Published by
Sourcebooks Fire
Published:
June 5, 2018
Buy on Amazon
Add to Goodreads
One summer will challenge everything the Garrett sisters thought they knew about themselves—and each other.

Kat lands the lead in the community theater's summer play, but the drama spills offstage when her ex and his new girlfriend are cast too. Can she get revenge by staging a new romance of her own?

Bea and her boyfriend are heading off to college together in the fall, just like they planned when they started dating. But Bea isn't sure she wants the same things as when she was thirteen…

Vi has a crush on the girl next door. It makes her happy and nervous, but Cece has a boyfriend…so it's not like her feelings could ever be reciprocated, right?

As the oldest, Des shoulders a lot of responsibility for her family and their independent bookstore. Except it's hard to dream big when she's so busy taking care of everyone else.
I received this book for free in exchange for an honest review. This does not affect my opinion of the book or the content of my review.
I added The Last Summer of the Garrett Girls to my TBR about 2 years ago and then promptly forgot all about it. But then I decided to scroll my TBR list for a challenge I gave myself in 2020 and I came across it again and back on the radar it went. And in the end it was really good. I know 3.5 stars doesn't look like a rave review, but it really was a good story. The only reason I didn't rate it higher is I think because it was 4 POVs and not a focus on 1 or 2, some of the stories felt a little rushed. Don;t get me wrong, I was mostly satisfied, but I think each girl would have benefitted from having their own book, their own stories apart from their sisters. For example I didn't love Des. She was the only Garrett girl I was not a fan of and I think that is because I didn't really get to know her. She was a girl I got a to learn about every 4th chapter. If she had her own book I think I would have understood and liked her more. But that aside, The Last Summer of the Garret Girls was a quick read and at its core about growing up and moving on. I think this deserves a spot on your TBR.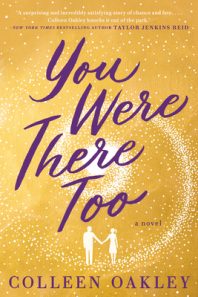 You Were There Too by Colleen Oakley
Published by Berkley
Published: January 7, 2020
Buy on Amazon
Add to Goodreads


Mia Graydon's life looks picket-fence perfect; she has the house, her loving husband, and dreams of starting a family. But she has other dreams too — unexplained, recurring ones starring the same man. Still, she doesn't think much of them, until a relocation to small-town Pennsylvania brings her face to face with the stranger she has been dreaming about for years. And this man harbors a jaw-dropping secret of his own—he's been dreaming of her too.

Determined to understand, Mia and this not-so-stranger search for answers. But when diving into their pasts begins to unravel her life in the present, Mia emerges with a single question—what if?

Acclaimed author Colleen Oakley delivers a heart-wrenching and unforgettable love story about a woman who must choose between the man she loves and the man fate has chosen for her in a novel that reminds us that the best life is one led by the heart.
I received this book for free in exchange for an honest review. This does not affect my opinion of the book or the content of my review.
It seems like for months I had You Were There Too on my TBR. The description seemed like an interesting concept that I hadn't read before. I like the idea of being connected to someone but not knowing why. But for some strange reason I kept putting it off. Until I finally just read it and man was it a rollercoaster of emotions. When I was 50% done I was uncertain if I was going to enjoy the rest of the book. I really liked Mia and Harrison but I didn't 100% love how Mia was behaving. I understood it to an extent but it still wasn't sitting right. And then I hit about 70% and I was hooked. The last part of the book was so emotionally draining and I loved every minute of it. These characters I had gotten to know and enjoy all clicked into the places they were supposed to be and it was book reading magic. Would I recommend You Were There Too? Yup. But I would do so with a warning that it is not a romance. It is a love story of sort but definitely not a romance. Be prepared and have the tissues handy. This one will hurt.
Related Posts