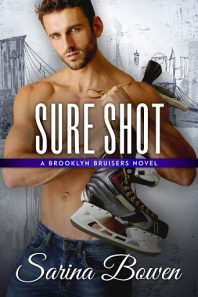 Sure Shot
by
Sarina Bowen
Series:
Brooklyn/Brooklyn Bruisers #7
Published by
Tuxbury Publishing LLC
Published:
May 12, 2020
Buy on Amazon
Add to Goodreads
A new stand-alone hockey romance from USA Today bestseller Sarina Bowen.

On the eve of her thirtieth birthday, sports agent Bess Beringer is ready to make some changes. Armed with a five-year plan—indexed and color coded—she'll tackle her personal life with the same zeal that she brings to her successful agency.

A big, tall, ripped hunk of hockey player who's just been traded to the Brooklyn Bruisers is not a part of that plan. Mark "Tank" Tankiewicz has a lot of baggage. He's a ride-or-die loner with a bad reputation. He's on the rebound. He's also the sexiest thing on two legs, and for some crazy reason it's Bess that he wants.

She knows better. But then she falls stupid in love with him anyway. And for a while it seems like maybe he'll do the same.

Until she asks him for the one thing he can never give her…
I received this book for free in exchange for an honest review. This does not affect my opinion of the book or the content of my review.
I have been a fan of Sarina Bowen's hockey books for a long time now. Every time she has a new one scheduled to come out I get really excited. Honestly it doesn't even matter who the book is about. So when I saw Sure Shot, the 4th book in the Brooklynaire series, I was so excited. Brooklynaire was my favorite book by Sarina so anything set in that world makes me happy. And Sure Shot…that definitely made me happy.
Sure Shot is the most recent addition to the Brooklyn Bruiser family. It is the story of Bess Beringer and Mark "Tank" Tankiewicz. Bess is the younger sister of a former Bruiser player and Tank is the newest member of the team traded from Dallas and dealing with some personal problems. Bess has a 5 year plan and it isn't one that included Tank. Actually she was never supposed to see Tank again after their fling 9 years earlier, but life doesn't seem to work the way you expect. These two are always in each others faces and the spark that was once there finds itself igniting once again. But when feelings start getting involved it is time to decide what is more important, a 5 year plan or trusting your gut?
I really enjoyed Sure Shot. Bess and Tank had a lot of really great chemistry which is the most important part of any romance. If there is no spark it makes it harder for me to ignore the things that bother me. For instance, Bess annoyed me a lot with her refusal to talk about things and to just assume and how she was fixated on her 5 year plan. But her and Tank were so good together it was magic and easy to forget. He was going through a lot and he did what he could to just take what came and not cower from anything, especially his feelings. Simply put, they were a fantastic couple.
In truth, Sure Shot was not my favorite Brooklynaire book, that is still Brooklynaire, but it was up there when everything was said and done. I just loved these two characters and they made reading their story a joy. I even loved the epilogue and I'm usually not a fan of those. In the end…add this to you TBR. And if you haven't started this series, do it now!
Related Posts