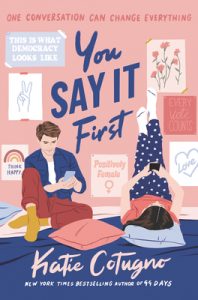 You Say It First
by
Katie Cotugno
Published by
Balzer + Bray
Published:
June 16, 2020
Buy on Amazon
Add to Goodreads
Meg has her entire life set up perfectly: her boyfriend Mason is sweet and supportive, she and her best friend Emily plan to head to Cornell together in the fall, and she even finds time to clock shifts phonebanking at a voter registration call center in her Philadelphia suburb. But everything changes when one of those calls connects her to a stranger from small-town Ohio, who gets under her skin from the moment he picks up the phone.

Colby is stuck in a rut, reeling from a family tragedy and working a dead-end job—unsure what his future holds, or if he even cares. The last thing he has time for is some privileged rich girl preaching the sanctity of the political process. So he says the worst thing he can think of and hangs up.

But things don't end there.…

That night on the phone winds up being the first in a series of candid, sometimes heated, always surprising conversations that lead to a long-distance friendship and then—slowly—to something more. Across state lines and phone lines, Meg and Colby form a once-in-a-lifetime connection. But in the end, are they just too different to make it work?

You Say It First is a propulsive, layered novel about how sometimes the person who has the least in common with us can be the one who changes us most.
I received this book for free in exchange for an honest review. This does not affect my opinion of the book or the content of my review.
When I see Katie Cotugno has a new book coming out I immediately add it to my TBR without even knowing what it is about. She is an auto read author for me and she has never let me down. So when I read what You Say It First is about I was even more intrigued. It was a subject that is current and relevant and something I knew Katie was passionate about. I was really excited to read it and once again Katie did not let me know. You Say It First was a solid, solid read.
You Say It First is about Meg and Colby, two 18 year olds that meet under unexpected circumstances. Meg is a girl from Philadelphia with a plan. She is has the perfect boyfriend and is supposed to go to Cornell with her best friend Emily. She is passionate about politics and makes calls to encourage people to register to vote. But when Mason breaks-up with her plans are starting to come undone. And then Meg makes a chance call to a small town in Ohio and "meets" Colby. Colby is having his own personal problems so when Meg calls he says something mean and hangs up. Unfortunately guilt is a terrible thing and Colby can't let it go. Instead he and Meg start a friendship and something more over the phone. The problem is how different they both are and it might not be so easy to get past those differences.
What I really liked about You Say It First was how real it felt. Both Meg and Colby were searching for something in their lives. Colby was dealing with a tragedy that destroyed him and Meg was dealing with be upfront with what she wanted out of her life. They both needed something can they were brought into each other's lives at the right time. And because they met over the phone they were able to be more honest than usual because they had the comfort of some anonymity. They were not the perfect couple by any means. Even on paper they weren't even destined to be friends. But even with their differences they were really good together. They made me laugh and cry and general enjoy all the emotions they were both dealing with. It was exactly what I have come to love from Katie's writing. It was believable.
So why didn't I give You Say It First 5 stars? The simple answer is I needed it to be longer. If it was even 50 pages longer and dealt with some of the smaller storylines I think I would have found it to be a perfect book. But whether it is a 4 star read or a 5 star read the important thing is…it is a MUST read. Add this book to your TBR and do it today.
Related Posts