Another month, more Netgalley reviews. Here are a few brief thoughts on some 3 star Netgalley reads: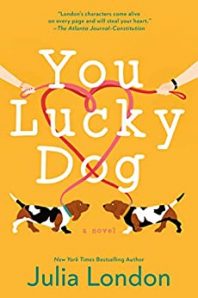 You Lucky Dog
by
Julia London
Published by
Berkley Romance
Published:
August 25, 2020
Buy on Amazon
Add to Goodreads
An accidental dog swap unleashes an unexpected love match in this new romantic comedy from New York Times bestselling author Julia London.

Carly Kennedy's life is in a spiral. She is drowning in work, her divorced parents are going through their midlife crises, and somehow Carly's sister convinces her to foster Baxter--a basset hound rescue with a bad case of the blues. When Carly comes home late from work one day to discover that the dog walker has accidentally switched out Baxter for another perkier, friendlier basset hound, she has reached the end of her leash.

When Max Sheffington finds a depressed male basset hound in place of his cheerful Hazel, he is bewildered. But when cute, fiery Carly arrives on his doorstep, he is intrigued. He was expecting the dog walker, not a pretty woman with firm ideas about dog discipline. And Carly was not expecting a handsome, bespectacled man to be feeding her dog mac and cheese. Baxter is besotted with Hazel, and Carly realizes she may have found the key to her puppy's happiness. For his sake, she starts to spend more time with Hazel and Max, until she begins to understand the appeal of falling for your polar opposite.
I received this book for free in exchange for an honest review. This does not affect my opinion of the book or the content of my review.
In theory You Lucky Dog sounds like it would be a really fun, cute rom com. It had all the parts. Sadly, for me, that just wasn't the case. Don't get me wrong, I enjoyed some of it, like the dogs because they were ADORABLE. And I also liked some of the family aspect. That was a good thing to include, especially Max's family. But for the most part I found the plot very slow and Carly's family felt like caricatures and not characters. Carly and Max did have some chemistry but I was missing the wow and the woo. I did read it as a buddy read so that helped. All in all this wasn't the cute rom com I was anticipating, but that didn't make it a horrible book. Check it out for yourself.

10 Things I Hate About Pinky
by
Sandhya Menon
Series:
Dimple and Rishi #3
Published by
Simon Pulse
Published:
July 21, 2020
Buy on Amazon
Add to Goodreads
The follow-up to When Dimple Met Rishi and There's Something about Sweetie follows Pinky and Samir as they pretend to date—with disastrous and hilarious results.

Pinky Kumar wears the social justice warrior badge with pride. From raccoon hospitals to persecuted rock stars, no cause is too esoteric for her to champion. But a teeny-tiny part of her also really enjoys making her conservative, buttoned-up corporate lawyer parents cringe.
Samir Jha might have a few . . . quirks remaining from the time he had to take care of his sick mother, like the endless lists he makes in his planner and the way he schedules every minute of every day, but those are good things. They make life predictable and steady.

Pinky loves lazy summers at her parents' Cape Cod lake house, but after listening to them harangue her about the poor decisions (aka boyfriends) she's made, she hatches a plan. Get her sorta-friend-sorta-enemy, Samir—who is a total Harvard-bound Mama's boy—to pose as her perfect boyfriend for the summer. As they bicker their way through lighthouses and butterfly habitats, sparks fly, and they both realize this will be a summer they'll never forget.
I received this book for free in exchange for an honest review. This does not affect my opinion of the book or the content of my review.
I must admit that I have a weird feeling from 10 Things I Hate About Pinky. On one hand I loved a lot of it. I thought Pinky and Samir were great together. I loved their relationship and their banter and how they were completely opposites but kind of brought out the best in each other. And I loved the setting. It felt like summer and summers I remember on Cape Cod. But on the other hand something felt a little off and I can't place what it was. I wasn't a fan of Dolly for some reason. And I hated how Pinky and her mother's relationship was handled, it almost felt rushed. Something was just off but in all fairness it could be because I loved Dimple and Rishi and Sweetie and Ash's stories. I honestly don't know. But what I do know is that I found the book enjoyable and a pretty quick read once I got into the story. I would definitely recommend reading this companion series.

Cinderella Is Dead by Kalynn Bayron
Published by Bloomsbury YA
Published: July 7, 2020
Buy on Amazon
Add to Goodreads


It's 200 years after Cinderella found her prince, but the fairy tale is over. Teen girls are now required to appear at the Annual Ball, where the men of the kingdom select wives based on a girl's display of finery. If a suitable match is not found, the girls not chosen are never heard from again.

Sixteen-year-old Sophia would much rather marry Erin, her childhood best friend, than parade in front of suitors. At the ball, Sophia makes the desperate decision to flee, and finds herself hiding in Cinderella's mausoleum. There, she meets Constance, the last known descendant of Cinderella and her step sisters. Together they vow to bring down the king once and for all–and in the process, they learn that there's more to Cinderella's story than they ever knew . . .

This fresh take on a classic story will make readers question the tales they've been told, and root for girls to break down the constructs of the world around them.
I received this book for free in exchange for an honest review. This does not affect my opinion of the book or the content of my review.
First and foremost, Cinderella is Dead was an interesting take on the Cinderella story. It took a story I knew from childhood and flipped it on it's head. It was made modern and current but set in a fantasy world. The issue of sexism, sexuality, and how women are generally treated was handled perfectly and done right. I honestly really loved that part of the story. But I didn't really love other parts like the predictability. I could see everything that was coming before it came and it started to grate on me by the end. Normally I'm okay with figuring things about, but the fact that there was on mystery in this one did take some of my joy. Truly though it is very well written and easy to get wrapped up in. Was it a favorite of mine? No. But I look forward to reading more from this author.
Related Posts