I am thrilled to be hosting , and one of the two final stops on the THE INHERITANCE GAMES by Jennifer Lynn Barnes Blog Tour hosted by Rockstar Book Tours. Check out my review and make sure to enter the giveaway!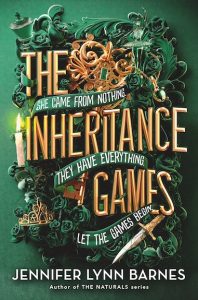 The Inheritance Games by Jennifer Lynn Barnes
Series: The Inheritance Games #1
Published: September 1, 2020
Buy on Amazon
Add to Goodreads


A Cinderella story with deadly stakes and thrilling twists, perfect for fans of One of Us is Lying and Knives Out.

Avery Grambs has a plan for a better future: survive high school, win a scholarship, and get out. But her fortunes change in an instant when billionaire Tobias Hawthorne dies and leaves Avery virtually his entire fortune. The catch? Avery has no idea why--or even who Tobias Hawthorne is. To receive her inheritance, Avery must move into sprawling, secret passage-filled Hawthorne House, where every room bears the old man's touch--and his love of puzzles, riddles, and codes.

Unfortunately for Avery, Hawthorne House is also occupied by the family that Tobias Hawthorne just dispossessed. This includes the four Hawthorne grandsons: dangerous, magnetic, brilliant boys who grew up with every expectation that one day, they would inherit billions. Heir apparent Grayson Hawthorne is convinced that Avery must be a con-woman, and he's determined to take her down. His brother, Jameson, views her as their grandfather's last hurrah: a twisted riddle, a puzzle to be solved. Caught in a world of wealth and privilege, with danger around every turn, Avery will have to play the game herself just to survive.
I received this book for free in exchange for an honest review. This does not affect my opinion of the book or the content of my review.
I knew The Inheritance Games had a lot to live up to. It was described as "A Cinderella story with deadly stakes and thrilling twists, perfect for fans of One of Us is Lying and Knives Out." As a fan of the movie Knives Out and the book, One of Us is Lying, the book already had a weight to carry. Not to mention the description reminding me of one of my all  time favorite Middle Grade books, The Westing Game. So going into it I was scared. In the end, Barnes did what Barnes does and wooed me with her storytelling talent.
The Inheritance Games is the story of Avery, a girl that lost her mother when she was around 15 and has being taken care of by her sister, Libby. Both girls are doing what they can to get by and it isn't always easy. Until one day Avery is informed she is the heiress to a billionaire she has never met. Suddenly Avery and Libby are living in a mansion and Avery is dealing with the family that was disinherited. Using the clues left behind by Tobias Hawthorne and working the 4 Hawthorne brothers Avery tries to uncover the mystery of why she was named heiress to a fortune of a man she doesn't know.
There wear a lot of things I really enjoyed about The Inheritance Games. First and foremost I loved the Hawthorne brothers. Each boy was completely different and had different reactions to being written out of the will. But they were also family and tried to remember that through out the whole story. I also really loved the puzzle aspect and how Avery was able to work with the boys or on her own to figure out what the clue meant. Also as weird as it is, I loved Hawthorne House. It kind of wish there was a map included in the book explaining it better. But what I loved the most was the aspect of the importance of family. That is the one part of the story that took me by surprise and the aspect I thing really grounded the book.
The truth is I really enjoyed The Inheritance Games. Was a bit long? Slightly, but it was also a really quick read and entertaining characters and a well thought out plot. Sure I felt the Knives Out vibe, but it is a book that stands on its own and doesn't really need the comparisons. I really look forward to see what else Barnes brings us on what I hope is a long series of capers. Add this to your TBR.

3 winners will receive a finished copy of THE INHERITANCE GAMES, US Only.
Week One:
| | | |
| --- | --- | --- |
| 8/17/2020 | | Spotlight |
| 8/17/2020 | | Spotlight |
| 8/18/2020 | | Review |
| 8/18/2020 | | Spotlight |
| 8/19/2020 | | Spotlight |
| 8/19/2020 | | Review |
| 8/20/2020 | | Interview |
| 8/20/2020 | | Review |
| 8/21/2020 | | Review |
| 8/21/2020 | | Review |
Week Two:
| | | |
| --- | --- | --- |
| 8/24/2020 | | Review |
| 8/24/2020 | | Review |
| 8/25/2020 | | Review |
| 8/25/2020 | | Review |
| 8/26/2020 | | Review |
| 8/26/2020 | | Review |
| 8/27/2020 | | Review |
| 8/27/2020 | | Review |
| 8/28/2020 | | Spotlight |
| 8/28/2020 | Andi's ABCs | Review |
Related Posts