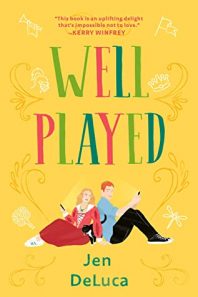 Well Played
by
Jen DeLuca
Series:
Well Met #2
Published by
Berkley
Published:
September 22, 2020
Buy on Amazon
Add to Goodreads
Another laugh-out-loud romantic comedy featuring kilted musicians, Renaissance Faire tavern wenches, and an unlikely love story.

Stacey is jolted when her friends Simon and Emily get engaged. She knew she was putting her life on hold when she stayed in Willow Creek to care for her sick mother, but it's been years now, and even though Stacey loves spending her summers pouring drinks and flirting with patrons at the local Renaissance Faire, she wants more out of life. Stacey vows to have her life figured out by the time her friends get hitched at Faire next summer. Maybe she'll even find The One.

When Stacey imagined "The One," it never occurred to her that her summertime Faire fling, Dex MacLean, might fit the bill. While Dex is easy on the eyes onstage with his band The Dueling Kilts, Stacey has never felt an emotional connection with him. So when she receives a tender email from the typically monosyllabic hunk, she's not sure what to make of it.
Faire returns to Willow Creek, and Stacey comes face-to-face with the man with whom she's exchanged hundreds of online messages over the past nine months. To Stacey's shock, it isn't Dex—she's been falling in love with a man she barely knows.
I received this book for free in exchange for an honest review. This does not affect my opinion of the book or the content of my review.
I was sad when I didn't fall in love with Well Met when I read it. So many people were head over heels for it and it didn't 100% work for me which happens. I get bad, but it happens. And even though it wasn't a favorite it left me interested enough to want to see what happened in book two. Well I can happily report that Well Played ended up being beyond my expectations and a book I really loved when all is said and done.
Well Played is is the perfect companion book to Well Met. It follows Stacey, Emily's best friend and co bar wench at the Renaissance Faire that their town Willow Creek holds for a month every year. Stacey has always loved the Ren Faire but for the first time in a while she feels restless. After a night of drinking with some friends Stacey does something crazy and messages Dex, the guy she hooks up with when the faire is in town. Pretty soon the two of them are exchanging emails and texts and secrets. But their exchange isn't everything it seems. Stacey starts to notice that she may not actually be talking to Dex, but someone else. Now the question is why have they been pretending to be Dex and does it really matter when she thinks she may have fallen for this other guy?
What I loved about Well Played was Stacey. She was a really, really like able character. She was in a rut and didn't know what to do. She wanted things to change and didn't know how to do it. Instead she did what a lot of people do and made a drunk decision that changed her life. Was it what she thought it would be? No…it was better. She met her perfect match and I loved him so so much. He made some stupid decisions but he also made some really good ones like tell Stacey she could do more with her life. She could do anything she wanted. Watching their relationship bloom and blossom was such a fun part of the book and it left me wanting more and more pages.
I know this review is vague but I don't want to give anything away. Just know you will swoon and you may even shed a tear or two (I know I did). Even if you didn't love Well Met pick up Well Played because you will definitely like this. It had heart and romance and left me smiling and eagerly waiting for the 3rd book in the series. Get this on the TBR right now!
Related Posts