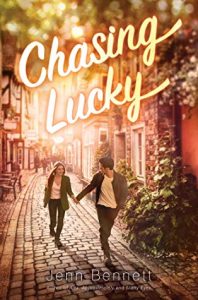 Chasing Lucky
by
Jenn Bennett
Published by
Simon Pulse
Published:
May 5, 2020
Buy on Amazon
Add to Goodreads
In this coming-of-age romance perfect for fans of Jenny Han and Sarah Dessen, a rule-abiding teen embraces her more rebellious side while falling for her ex-boyfriend's arch-nemesis.

Josie Saint-Martin is well-versed in the art of concealment. Bullied as a child, she's spent most of her life with her single mother, moving from city to city, covering up what she doesn't want others to see, comfortable behind the lens of her favorite vintage camera . . .until Josie's grandmother dies and they return to her mother's historical New England hometown to run the family bookstore. There, Josie pulls off the ultimate camouflage: dating Adrian, the Harvard-bound son of the most influential man in town.

But her smokescreen is blown when Adrian breaks up with her during his high school graduation party, and Josie's poorly executed act of revenge lands her big-time trouble—jail alongside the last person she'd want to share a mugshot with: the mysterious and brooding son of the boat mechanic next door, Lucky Karras.

Forced to spend the summer together in mandatory community service, Josie and Lucky become the talk of their coastal town—shamed, trolled, and publicly disgraced. The weird thing is, Josie starts to not mind, because the pair have more in common than she once thought. A lot more. But during a summer of secrets, in a town built on gossip, everything rises to the surface. Can Josie and Lucky swim past these obstacles, or will they both go down together?
I received this book for free in exchange for an honest review. This does not affect my opinion of the book or the content of my review.
Jenn Bennett is one of my favorite YA authors. Her stories always have swoons and seriousness and are amazing. I first fell in love with her books with Alex, Approximately and my love has only grown. Even when one of her books isn't one of my favorites I still fall more and more in love with her writing. And Chasing Lucky, although not my favorite of her books, did help that love grow.
Chasing Lucky is the story of Josie, a girl that has been missing her home for 5 years. When she was 12 her mom took her away from the home she knew in New England and they have been bouncing around from place to place ever since. That is until they find themselves back where they started. Now Josie is trying to find her footing but not get too attached since she knows she won;t be there forever. But when something happens and her childhood best friend, Lucky, takes the blame, Josie find she may have something she wants to stick around for. While the two of them spend the summer rekindling their friendship and learning about the new people they have become Josie does the one thing she tried not, makes a connection that puts down some roots.
I really loved Lucky in Chasing Lucky. For me he was the best part of the book. He was a complicated guy but underneath it all he was a sweet boy that just wanted his best friend back. He went through a really rough time when Josie left, right when he needed her the most. Seeing them reform their friendship and what it became was a highlight for me. But I admit I struggled the Josie a lot. She was really frustrating. I didn't understand some of her thought processes it was hard for me to connect with her. She did have great chemistry with Lucky which I appreciate in a good book.
Although I struggled with Josie and wish there had been a few less side stories I did really enjoy Chasing Lucky. It was a quintessential Jenn Bennett book. It had heart and emotion to it which I why I will be a fan of her stuff for a long, long time. I recommend picking this one up.
Related Posts