I have been doing a lot of Etsy browsing this holiday season, mostly for me, since some of these shops are the sole income for the proprietors. The great thing about Etsy is you can find something for everyone's taste and it is all mostly done by hand so it has that added level of charm. Through my scrolling I have found some great gifts for the books nerds in your life and thought it was about time I shared (and yes I included something from my own shop. Sue me!).
Library Girl – HNIllustration
This fashion illustrator has been a favorite of mine for a long time (some of you may even have gifts from me of her designs). She is local to Boston but also does New York themed prints. Recently I have been really into her digital downloads. The print beautifully on my cardstock and are nice to have on hand should I want to print and frame it.  This particular print comes in a few skin tones and hair colors (and also in a preprinted version). Check out her shop for more.
Well Read – Queen Bee Reads
I came across this shop on Instagram when a friend posted about it on Shop Small Saturday. I immediately fell in love with this shirt. I haven't bought it yet but it is on my list of things I want. There are also some great sweatshirt designs and even a custom option.
Custom Wood Faux Book Stack – JLWCustom Design
I have seen these stacks of books on Instagram for families and I loved the way they looked. It seems like such a cute, simple gift. They could even ben done for your favorite characters from your favorite series. I personally picture a stack that says Anna & Etienne, Lola & Crickett, Isla & Josh. The seller also has signs and other items.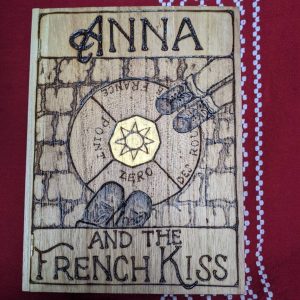 Woodburned Book Box with Custom Book Cover – sophidelicpyrography
The owner of this shop is a friend of mine and the item in the picture is mine. I commissioned her to make me an Anna and the French Kiss book box and she went above and beyond what I could have ever expected. I did a whole blog post on her awesome shop that you can find here.
Personalized Notepad – Tiny Dreams Designs
I came across this a couple of years ago and actually ordered one for Miranda Kenneally as a gift. The cool thing about this purchase is not only can it be personalized with a name, it can also be personalized with books colors and book titles. The seller is happy to discuss customization. Check out the shop for a variety of other personalized paper items.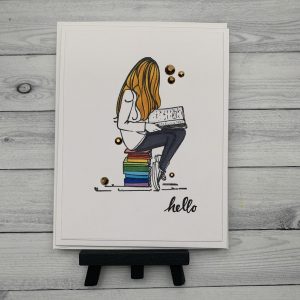 Bookstack – Cards by Andrea S.
Okay, so I'm the owner of this shop. Sorry, but I couldn't do a post about book nerd gifts form Etsy without showing the cards I make. I have two versions of this card available for customization. And I have other book items should you want a custom order. Plus I think I make cute stuff…I know, I'm modest. 🙂
Do you have any Etsy book items to recommend? Share in the comments!
Related Posts