I have been a fan of Trish Doller's YA books for years. I still remember the first time I read Something Like Normal and fell in love with her writing. I was beyond thrilled to hear Trish was doing an adult romance. So thrilled I have already read it twice. I was lucky enough to get to ask Trish a few questions about writing Float Plan and man do I love her answers!
1) After years of writing Young Adult stories, what was it about Anna and Keane's story that made it be your adult romance debut?
Float Plan got its start about eight years ago as a young adult novel about a girl (not Anna) whose secret boyfriend (not Ben) was killed in a motorcycle accident and she was sent to stay with her grandmother in Florida, where she met an irreverent young Irish sailing instructor/kayak rental attendant/Chinese food delivery person (definitely Keane). But I couldn't quite find the magic in that story, so I set it aside unfinished.
Then I saw the film adaptation of Wild by Cheryl Strayed, and I fell in love with how Cheryl walked her way out of her own wilderness in the most literal sense. And that sparked the idea to turn that YA novel into an adult novel about a young woman who goes on a solo sailing trip. Anna was born. And Ben. And when I was thinking about who might be strong enough to be Anna's love interest, I remembered Keane. There are remnants of his original character in his current personality, but in Float Plan, Keane is older and living through his own loss has changed him in some ways.
All of this is a very long way of saying that writing this story as an adult novel felt like the right choice. When the characters clicked into place, I found the magic.
2) Anna is dealing not only with grief but with the loss of the life she was planning. How did you deal with those emotions while writing her story?
Writing is a very empathetic experience for me. My characters feel like real people, and sometimes I feel like I'm channeling them instead of creating them. So, if there's a moment when Anna's grief makes you feel something, rest assured I felt it, too. I cried a LOT.
3) This is your first time writing a book that will have a companion. Did you know Anna and Keane wouldn't be the end of the stories set in this world when you started writing Float Plan?
Float Plan was written as a stand-alone, and I hadn't considered setting more stories in Anna and Keane's world. But when my agent and I talked about pitching Float Plan to publishers, she mentioned that she could envision books with Rachel and Carla (and even Sara) as characters. Once that seed was planted, it just grew from there.

~~~~~~~~~~~~~~~~~~~~~~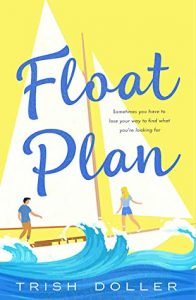 Float Plan
by
Trish Doller
Published by
St. Martin's Griffin
Published:
March 2, 2021
Buy on Amazon
Add to Goodreads
Critically acclaimed author Trish Doller's unforgettable and romantic adult debut about setting sail, starting over, and finding yourself...

Since the loss of her fiancé, Anna has been shipwrecked by grief—until a reminder goes off about a trip they were supposed to take together. Impulsively, Anna goes to sea in their sailboat, intending to complete the voyage alone.

But after a treacherous night's sail, she realizes she can't do it by herself and hires Keane, a professional sailor, to help. Much like Anna, Keane is struggling with a very different future than the one he had planned. As romance rises with the tide, they discover that it's never too late to chart a new course.

In Trish Doller's unforgettable Float Plan, starting over doesn't mean letting go of your past, it means making room for your future.

Stay tuned Monday when I post my review and a special giveaway!
Related Posts