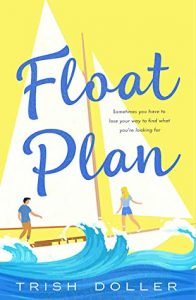 Float Plan
by
Trish Doller
Published by
St. Martin's Griffin
Published:
March 2, 2021
Buy on Amazon
Add to Goodreads
Critically acclaimed author Trish Doller's unforgettable and romantic adult debut about setting sail, starting over, and finding yourself...

Since the loss of her fiancé, Anna has been shipwrecked by grief—until a reminder goes off about a trip they were supposed to take together. Impulsively, Anna goes to sea in their sailboat, intending to complete the voyage alone.

But after a treacherous night's sail, she realizes she can't do it by herself and hires Keane, a professional sailor, to help. Much like Anna, Keane is struggling with a very different future than the one he had planned. As romance rises with the tide, they discover that it's never too late to chart a new course.

In Trish Doller's unforgettable Float Plan, starting over doesn't mean letting go of your past, it means making room for your future.
I received this book for free in exchange for an honest review. This does not affect my opinion of the book or the content of my review.
The first time I read a book by Trish Doller was May 2012 and it was her young adult debut, Something Like Normal. I read the book in a day and I knew as I finished readers would in for a treat with this new author. Her debut was magical and I looked forward to what we would get next. She has proved me right with her following 4 young adult releases and then changed it all with her debut adult romance, Float Plan. We weren't in for a treat as a reader, we were in for a jackpot. Because guys…Float Plan is AMAZING! It is everything I expected from a Trish story in 10000% more. Can you tell I loved it?
Float Plan is the story of Anna, a grief stricken woman that is completely lost after the death of her fiancee. She is just going through the motions of living until a calendar reminder tells her she is supposed to be sailing with Ben and she does exactly that. Grabbing the course he planned and her supplies she takes the boat he left her and hits the high seas. But sailing solo, while dealing with memories of Ben, is something Anna soon realizes she can't do alone. She posts an ad asking for a sailing companion. And when Keane answers the add Anna's journey becomes more than a sailing trip. It becomes about learning how to move on from soul crushing grief and how to start her life again.
Did I mention I love this book? There are times in everyone's life where the perfect person comes into it at the perfect time. Keane was that person for Anna. She was desperate to move forward wit her life but she was trapped in her grief. Keane was able to help her see it was okay to move on. He was there to make Anna see her own strength. To see she was worth having love and giving love and just living her life even if she was devastated by Ben's death. Basically Keane was perfect for Anna and she was perfect for him. 
Float Plan was just a perfect read. And a perfect adult debut. Anna's journey so solid and uplifting. And Keane is the kind guy every one needs in their lives. I know Trish worked hard on this book for a lot of years and it is the story of her heart. I strongly believe it will be the story of yours too when you read it. Go out there and buy a copy!!!

Today is your lucky day. I am giving away a copy of Trish's book, Float Plan and an Away mini travel case in Coast (plus Extras). This giveaway is US ONLY and runs until March 22, 2021 at 11:59pm EST. Trust me, you want both the book and the mini in your life. Enter below!
Related Posts