To kick off 2021 I decided I was going to try my hand at templates to keep better track of my reading. At the beginning of the month I will be sharing the following templates to help myself keep track of my challenges I have given myself.
Netgalley 2021: I don't if you see that number under ratio and the number under goal, but they match! I have managed to reach my goal of an 84% feedback ratio in August and my unread Netgalley books number as well. I know that Netgalley is fluid and constantly changing, but I'm applauding myself for getting there and am going to try my hardest to stay there by cleaning up more books every month. For reference, this is what Netgalley looked like last year: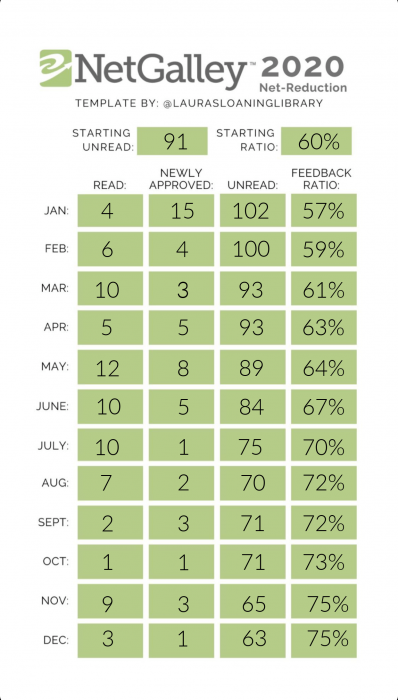 2021 Reads: I admit I was worried about the number of books I would get to in August. The week I was away I got like no reading done. But it worked out in the end and I read some fun 2022 releases you guys will be excited for.
Goodreads Challenge Check-In: I pulled off 11 books read in August. I seriously can't complain. And because of those 11 I am now only 12 away from my goal of 100 books for 2021. Maybe I can close this out this month!
If you want to take part in the fun here is where you can find all my templates on the blog. They also can be located on my Instagram Highlights 2021 Templates. Keep checking back for more.
Related Posts