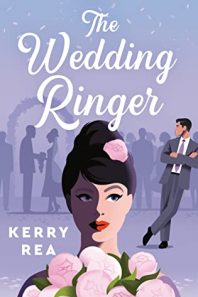 The Wedding Ringer
by
Kerry Rea
Published by
Berkley
Published:
November 9, 2021
Buy on Amazon
Add to Goodreads
Once upon a time, Willa Callister was a successful blogger with a good credit score, actual hobbies, and legs that she shaved more than once a month. But after finding her fiancé in bed with her best friend, she now spends her days performing at children's birthday parties in a ball gown that makes her look like a walking bottle of Pepto Bismol. Willa dreams of starting fresh, where no one knows who she used to be, but first she needs to save up enough money to make it happen.

Maisie Mitchell needs something too: another bridesmaid for her wedding. After a chance encounter at a coffee shop, Maisie offers to pay Willa to be in her bridal party. Willa wants nothing to do with weddings—or Maisie—but the money will give her the freedom to start the new life she so badly desires.

Willa's bridesmaid duties thrust her into Maisie's high-energy world and into the path of hotshot doctor Liam Rafferty. But as Willa and Maisie form a real friendship, and Liam's annoyingly irresistible smile makes her reconsider her mantra that all men are trash, Willa's exit strategy becomes way more complicated. And when a secret from Maisie's past threatens to derail the wedding, Willa must consider whether friendship—and romance—are worth sticking around for.
I received this book for free in exchange for an honest review. This does not affect my opinion of the book or the content of my review.
I added The Wedding Ringer to my TBR in March of 2021. There was nothing  about the book description that stood out to me, but it seemed like it would be an okay book and something different than what I had been reading at that time. I think I liked the idea of the main character being a former blogger/influence that had lost everything and was trying to make money. But really it was a book about so much more it appeared and it took me COMPLETELY by surprise in how much I ended up loving it.
The Wedding Ringer is about Willa Callister, a once successful blogger that appeared to have it all right down to the perfect fiance. That is until he caught he cheating with Willa's best friend. Suddenly Willa is single, living with her sister, and trying to keep it together. For someone that once had perfect credit she is now trying to pay her bills anyway she can even if it means working for her sister's company as Princess Sparkleheart. And then on day while getting coffee Willa meets the whirlwind that is Maise Mitchell. Maise needs something and Willa is the one that can help. She needs a bridesmaid for her wedding and she is willing to pay. Soon Willa finds herself thrust into Maise's life and immersed in planning the perfect wedding for a stranger that is somehow becoming a friend. And with wedding planning comes the hot doctor Liam Rafferty. As the wedding starts to unravel Willa must decide how far she is willing to go for a friendship she never saw coming.
There was something truly amazing about The Wedding Ringer. On the surface it is a romance book between Liam and Willa, which don't get me wrong, was super swoony. But it was about so much more.It was about friendship and picking yourself up when your world is shattered by the people you trusted the most with your happiness. It is about moving on and finding love and trust. It was about family you were born into the family you end up with. It was about opening yourself up even if you are doing everything in your power to protect yourself from getting hurt again. Those things right there are what made reading this book the most perfect experience and one I want every one to have.
Basically The Wedding Ringer was everything I wanted in a book and didn't know I wanted it. It was filled with such loving, supportive characters that were there for one another. It's a book that took my completely by surprise and that I wanted to hung when I was done because it just felt magical. It's a book that you will definitely want on your shelf. Get a copy today!
Related Posts