Here are a few brief thoughts on some Netgalley 4 star reads:
If This Gets Out
by
Sophie Gonzales
,
Cale Dietrich
Published by
Wednesday Books
Published:
December 7, 2021
Buy on Amazon
Add to Goodreads
Eighteen-year-olds Ruben Montez and Zach Knight are two members of the boy-band Saturday, one of the biggest acts in America. Along with their bandmates, Angel Phan and Jon Braxton, the four are teen heartbreakers in front of the cameras and best friends backstage. But privately, cracks are starting to form: their once-easy rapport is straining under the pressures of fame, and Ruben confides in Zach that he's feeling smothered by management's pressure to stay in the closet.

On a whirlwind tour through Europe, with both an unrelenting schedule and minimal supervision, Ruben and Zach come to rely on each other more and more, and their already close friendship evolves into a romance. But when they decide they're ready to tell their fans and live freely, Zach and Ruben start to truly realize that they will never have the support of their management. How can they hold tight to each other when the whole world seems to want to come between them?
I received this book for free in exchange for an honest review. This does not affect my opinion of the book or the content of my review.
In 2020 I fell in love with Sophie Gonzales books and I never turned back. So when I heard that she was writing a book with Cale Dietrich I was excited. And then when I heard that If This Gets Out was a bout a boy band that had two members fall for each other I was hooked! This book ended up being everything I hoped it would be. It was first a great friendship book and a look at the entertainment industry and what it can do to young kids and take over their lives. But then it was a solid love story between two boys that never saw it coming and knew it had the potential to wreck everything they had worked for. Ruben and Zack were two of the cutest main characters I have ever read and I just fell completely head over heels for them! The book was just so well done that you felt like you were a part of their story and it should be on everyone's TBR.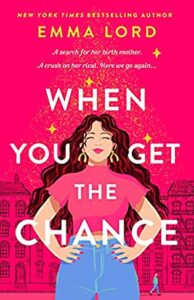 When You Get the Chance
by
Emma Lord
Published by
Wednesday Books
Published:
January 4, 2022
Buy on Amazon
Add to Goodreads
Nothing will get in the way of Millie Price's dream to become a Broadway star. Not her lovable but super-introverted dad, who after raising Millie alone, doesn't want to watch her leave home to pursue her dream. Not her pesky and ongoing drama club rival, Oliver, who is the very definition of Simmering Romantic Tension. And not the "Millie Moods," the feelings of intense emotion that threaten to overwhelm, always at maddeningly inconvenient times. Millie needs an ally. And when a left-open browser brings Millie to her dad's embarrassingly moody LiveJournal from 2003, Millie knows just what to do. She's going to find her mom.

There's Steph, a still-aspiring stage actress and receptionist at a talent agency. There's Farrah, ethereal dance teacher who clearly doesn't have the two left feet Millie has. And Beth, the chipper and sweet stage enthusiast with an equally exuberant fifteen-year-old daughter (A possible sister?! This is getting out of hand). But how can you find a new part of your life and expect it to fit into your old one, without leaving any marks? And why is it that when you go looking for the past, it somehow keeps bringing you back to what you've had all along?
I received this book for free in exchange for an honest review. This does not affect my opinion of the book or the content of my review.
When You Get the Chance Kind of took me by surprise. Not that I didn't expect to love an Emma Lord book, but I didn't expect to love this one as much as I did. Honestly I wasn't that into the description, but I was into reading books by Emma so I just went for it. In the end it was such a great story with so many characters I found myself loving that I kind of couldn't put it down. Oliver was the shinning star of the whole book for me and I loved watching him and Millie interact and how their relationship grew and changed. But I also loved Millie's journey. She was on a mission to find her mom who gave her up. She had no idea where it would take her but in the process it took her on a journey she never imagined and brought people into her life that she needed. That was the highlight of the story and one I think readers will take away when they read this. Another Emma Lord gem for sure.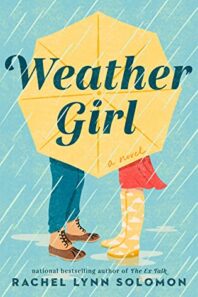 Weather Girl
by
Rachel Lynn Solomon
Published by
Berkley
Published:
January 11, 2022
Buy on Amazon
Add to Goodreads
A TV meteorologist and a sports reporter scheme to reunite their divorced bosses with unforecasted results in this electrifying romance from the author of The Ex Talk.

Ari Abrams has always been fascinated by the weather, and she loves almost everything about her job as a TV meteorologist. Her boss, legendary Seattle weatherwoman Torrance Hale, is too distracted by her tempestuous relationship with her ex-husband, the station's news director, to give Ari the mentorship she wants. Ari, who runs on sunshine and optimism, is at her wits' end. The only person who seems to understand how she feels is sweet but reserved sports reporter Russell Barringer.

In the aftermath of a disastrous holiday party, Ari and Russell decide to team up to solve their bosses' relationship issues. Between secret gifts and double dates, they start nudging their bosses back together. But their well-meaning meddling backfires when the real chemistry builds between Ari and Russell.

Working closely with Russell means allowing him to get to know parts of herself that Ari keeps hidden from everyone. Will he be able to embrace her dark clouds as well as her clear skies?
I received this book for free in exchange for an honest review. This does not affect my opinion of the book or the content of my review.
Truth time…Weather Girl was never going to live up to my love of the last two Rachel Lynn Solomon books I read. I have so much love in my heart for The Ex Talk and We Can't Keep Meeting Like This that Weather Girl had some stiff competition. But if I'm honest I think that helped to know going in because in the end I found the book to be completely delightful. Ari and Russell were the perfect pair that you really never saw coming. The were really sweet and charming together and I feel for them. But what I truly love about Rachel's story telling is how she weaves in serious issues like mental health into her stories so smoothly and organically that you can connect with a character no matter what. That is the true joy of reading a Solomon book. Was this one The Ex Talk or We Can't Keep Meeting Like This? No. But that is okay because this was it's own story and was enjoyed in it's own right. Add it to your TBR.
Related Posts