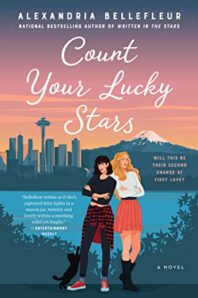 Count Your Lucky Stars
by
Alexandria Bellefleur
Series:
Written in the Stars #3
Published by
Avon Books
Published:
February 1, 2022
Buy on Amazon
Add to Goodreads
Following Written in the Stars and Hang the Moon, national bestselling author Alexandria Bellefleur pens another steamy queer rom-com about former best friends who might be each other's second chance at love…

Margot Cooper doesn't do relationships. She tried and it blew up in her face, so she'll stick with casual hookups, thank you very much. But now her entire crew has found "the one" and she's beginning to feel like a fifth wheel. And then fate (the heartless bitch) intervenes. While touring a wedding venue with her engaged friends, Margot comes face-to-face with Olivia Grant—her childhood friend, her first love, her first… well, everything. It's been ten years, but the moment they lock eyes, Margot's cold, dead heart thumps in her chest.

Olivia must be hallucinating. In the decade since she last saw Margot, her life hasn't gone exactly as planned. At almost thirty, she's been married... and divorced. However, a wedding planner job in Seattle means a fresh start and a chance to follow her dreams. Never in a million years did she expect her important new client's Best Woman would be the one that got away.

When a series of unfortunate events leaves Olivia without a place to stay, Margot offers up her spare room because she's a Very Good Person. Obviously. It has nothing to do with the fact that Olivia is as beautiful as ever and the sparks between them still make Margot tingle. As they spend time in close quarters, Margot starts to question her no-strings stance. Olivia is everything she's ever wanted, but Margot let her in once and it ended in disaster. Will history repeat itself or should she count her lucky stars that she gets a second chance with her first love?
I received this book for free in exchange for an honest review. This does not affect my opinion of the book or the content of my review.
In 2021 I was browsing a book store, something I hadn't done in a long time, and I picked up a copy of Hang the Moon by Alexandria Bellefleur. I read the back and was immediately sucked in. At the time I had no idea it was a companion in a series, I just knew I wanted it. And then I found out about Written in the Stars of I read that one first. I was immediately sucked into Bellefleur's stories and characters. I devoured both books in like 4 days and then I waited for Count Your Lucky Stars. And although I found it good, I didn't love it like I wanted to and that made me sad.
Count Your Lucky Stars is about Margot, Elle's roommate and business partner. Since Elle found love and so did her friend Brendon, Margot has been feeling like a 5th wheel. Sure she has fun having game nights and hanging out with her friends but she also realizes how lonely she in. Enter her childhood friend Olivia. The two have not seen each other in 10 years! And when Olivia has no where to stay Margot jumps at the chance to see if their spark is still there with the woman she first loved.
It's hard to explain why I wasn't as in love with Count Your Lucky Stars like I was with the first two books in the series. I really loved Margot as a character and I really loved Olivia as a character. They had good chemistry, but I just wasn't as invested. I don't know if it was all the alluding to the past or what it was, but I found their relationship just okay. It was good, but not a favorite. I did love the growth in Olivia. That was a huge highlight for me as she had such trouble believing she deserved more than she thought she did.
In the end Count Your Lucky Stars was a solid book for me, just not one that I would gush over. But all in all the Writte in the Stars series was top notch and something everyone should read if you love opposites attract (Written in the Stars), best friend's brother (Hang the Moon), and second chance romance (Count Your Lucky Stars).
Related Posts