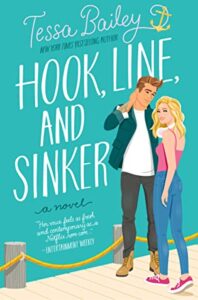 Hook, Line, and Sinker
by
Tessa Bailey
Series:
Bellinger Sisters #2
Published by
Avon Books
Published:
March 1, 2022
Buy on Amazon
Add to Goodreads
King crab fisherman Fox Thornton has a reputation as a sexy, carefree flirt. Everyone knows he's a guaranteed good time--in bed and out--and that's exactly how he prefers it. Until he meets Hannah Bellinger. She's immune to his charm and looks, but she seems to enjoy his... personality? And wants to be friends? Bizarre. But he likes her too much to risk a fling, so platonic pals it is.

Now, Hannah's in town for work, crashing in Fox's spare bedroom. She knows he's a notorious ladies' man, but they're definitely just friends. In fact, she's nursing a hopeless crush on a colleague and Fox is just the person to help with her lackluster love life. Armed with a few tips from Westport's resident Casanova, Hannah sets out to catch her coworker's eye... yet the more time she spends with Fox, the more she wants him instead. As the line between friendship and flirtation begins to blur, Hannah can't deny she loves everything about Fox, but she refuses to be another notch on his bedpost.

Living with his best friend should have been easy. Except now she's walking around in a towel, sleeping right across the hall, and Fox is fantasizing about waking up next to her for the rest of his life and... and... man overboard! He's fallen for her, hook, line, and sinker. Helping her flirt with another guy is pure torture, but maybe if Fox can tackle his inner demons and show Hannah he's all in, she'll choose him instead?

In the follow-up to It Happened One Summer, Tessa Bailey delivers another deliciously fun rom-com about a former player who accidentally falls for his best friend while trying to help her land a different man...
I received this book for free in exchange for an honest review. This does not affect my opinion of the book or the content of my review.
I distinctly remember when the romance loving book community went gaga for It Happened One Summer in the Spring of 2021. It seemed like they were all reading and gushing about that book at the same time which made me curious. Once I was able to get my hands on a copy I understood the collective love and the book pushing. Piper and Brendan where a fantastic opposites attract couple. And then I met Fox and Hannah and saw their chemistry and I needed a book of just their story. And that is exactly what I got and Hook, Line, and Sinker and it just blew me away how amazing the companion sequel was!
Hook, Line, and Sinker is about Fox Thornton and Hannah Bellinger. Fox and Hannah met in It Happened One Summer and let's just say it wasn't immediate like. But as time passed Hannah found herself liking the personality of the flirt that very wanted to settle down. Soon the two of them are best friends and when Hannah is in town for work Fox offers her a room in his home. With the two best friends now living together to decide to push any attraction aside and be only friends. Plus Hannah has it bad for her boss anyway and with Fox's help she hopes to grab his attention. Unfortunately as time passes Hannah realizes her boss may not be the one she is after and maybe living with your best friend is not as easy as it seems.
Hannah and Fox are a lot alike and those similarities really show in Hook, Line, and Sinker. Hannah has always played the backup role. She is the supporting cast in her mind and she is okay with that. And Fox has always let people think what they want about him pretending not to care but really being deeply hurt when the worst is always assumed. These two lost souls need each other and connect at the perfect moment in their lives. They share an emotional connection that only the two of them understand and support each other in the way they both need. They are there for each other and that starts to slowly change their friendship and what they think about themselves.
Hook, Line, and Sinker was perfection and I loved it even more than It Happened One Summer. Hannah and Fox were everything I wanted in a book. Their story was emotional and flirty and sexy. It was everything I wanted in their book and I can't wait to have a copy on my shelf. A must read in 2022!
Related Posts