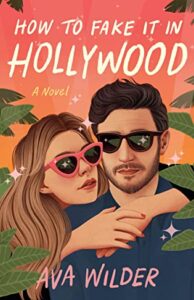 How to Fake It in Hollywood
by
Ava Wilder
Published by
Dell
Published:
June 14, 2022
Buy on Amazon
Add to Goodreads

A talented Hollywood starlet and a reclusive A-lister enter into a fake relationship . . . and discover that their feelings might be more than a PR stunt in this sexy debut for fans of Beach Read and The Unhoneymooners.


Grey Brooks is on a mission to keep her career afloat now that the end of her long-running teen soap has her (unsuccessfully) pounding the pavement again. With a life-changing role on the line, she's finally desperate enough to agree to her publicist's scheme... faking a love affair with a disgraced Hollywood heartthrob who needs the publicity, but for very different reasons.

Ethan Atkins just wants to be left alone. Between his high-profile divorce, his struggles with drinking, and his grief over the death of his longtime creative partner and best friend, he's slowly let himself fade into the background. But if he ever wants to produce the last movie he and his partner wrote together, Ethan needs to clean up his reputation and step back into the spotlight. A gossip-inducing affair with a gorgeous actress might be just the ticket, even if it's the last thing he wants to do.

Though their juicy public relationship is less than perfect behind the scenes, it doesn't take long before Grey and Ethan's sizzling chemistry starts to feel like more than just an act. But after decades in a ruthless industry that requires bulletproof emotional armor to survive, are they too used to faking it to open themselves up to the real thing?
I received this book for free in exchange for an honest review. This does not affect my opinion of the book or the content of my review.
Back in January I was scrolling through Twitter, as one does, and came across the cover for How to Fake It in Hollywood, a new debut by Ava Wilder. I knew immediately that I needed this book in my life and I was correct. It was heavier than the cover lead me to believe, but it was so fantastic. I didn't mean to read this book as fast as I did, but it was too good to really put down.
How to Fake It in Hollywood is the story of Grey Brooks, an actress out there trying to get another role after her long running teen soap has ended. She is out there trying her hardest to land the next big thing and it isn't going well. So when her agents recommends Grey fake date Ethan Atkins, a disgraced Hollywood heartthrob, she agrees. But Ethan is nothing like he expected. He is so sullen and withdrawn and dealing with so much loss it's hard for Grey to even pretend to be close to him and Ethan finds it hard to even think about letting Grey in. But as time passes the chemistry between these two grows and grows and soon in a town where everything feels fake, there are very real feelings and hearts involved.
As I mentioned the cover for How to Fake It in Hollywood is very very deceiving. You would look at the lovely illustrated cover and think you are in for a romcom with fake dating fun. And while you would be somewhere right, it is more than a fake dating book. It is a book about grief and how easy you can let grief destroy who you are and what you dreamed for yourself. Ethan broke my heart a lot in this story and Grey was exactly what he needed but wasn't always ready for. Ethan struggles with some real issues that does not allow for the book to give you that romcom vibe you are expecting to get. But once you get past that, I can't say enough how much I loved their story. It was hard and loving and sad. You hated to see these characters struggle but you alos couldn't wait to see if and how they would pull themselves together.
In the end How to Fake It in Hollywood was not at all what I was expecting when I picked it up, but it was much much more. The chemistry between Grey and Ethan was fantastic as was the deeper story hidden in the pages. There wasn't one thing I didn't love about this book. You are warned though, the cover is not fitting for the deeper story in the pages. Highly recommend this one!
CW: drug/alcohol abuse, grief (off page death), invasion of privacy
Related Posts