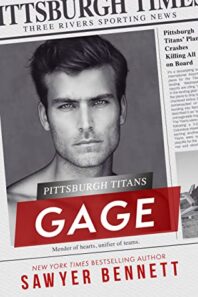 Gage
by
Sawyer Bennett
Series:
Pittsburgh Titans #3
Published:
July 26, 2022
Buy on Amazon
Add to Goodreads
Veteran player Gage Heyward retired from the league following a successful career. Now the Titans need him, but does he have what it takes to get back on the ice and pull this team together?

After achieving the goals I set for myself, I walked away from my professional hockey career. It was a tough decision, but the right one at the time. When the Titans organization approached me about joining the team they were rebuilding following a devastating plane crash, I felt a passion for the game and a competitive spirit I hadn't felt in years. The opportunity to make a huge difference to a lot of people spoke to me, and I accepted their offer and headed to Pittsburgh without a second thought.

Jenna Holland is also new to town, having moved from Phoenix to Pittsburgh to take a job with the Titans. Her past has left her with scars—both physical and emotional—and she's slow to trust others. But the more I learn about Jenna, the more I want to know. The more I need to know. Because the beautiful blonde with honey gold eyes and a wall around her heart has me enamored.

My game on the ice is the best it's ever been, but it's my game off the ice I'm focused on these days. Because while Jenna may not be willing to take a chance, I know the potential is there for something big. Something life changing. Now I just need to convince her to take the shot.
I received this book for free in exchange for an honest review. This does not affect my opinion of the book or the content of my review.
For years now I have been reading Sawyer Bennet's hockey romances. It started with Cold Fury, then on to Arizona Vengeance and now on to the Pittsburg Titans. And I have to say after all those books and hockey guys, Gage has quickly become a favorite. He was just such a pure soul that you can't help but love him!
Gage is about veteran player Gage Heyward that had thought his hockey playing days were over. He had happily retired and was living his life. But after the accident that took the whole Titans team, Gage was asked to come back and help out guys that were desperately in need of wisdom and experience. So once again Gage finds himself living the hockey life. He plans to only do it for a year and to return to Seattle. That is until he meets Jenna Holland. Jenna is struggling to over come both physical and emotional scars she has from a fire she was in. With a fresh start she is slowly opening the door she has been hiding behind for years. And once Gage gets a toe in, their lives are never going to be the same.
The thing about Gage is that he is genuinely a nice guy. He was happy to call it a career but he was also happy to try to get his new team going. Gage doesn't sit back and let any mistakes he makes pass by. He faces them head on which was also refreshing. He doesn't like people assume. He clears things up. He was refreshing that way and was also exactly what Jenna needed. She was so scared from her scars. She had a fear people would never treat her the way they used to, but Gage put that fear to rest. He let her lead the pace of whatever was going on between them. She set the tone and by him doing that she was able to trust again.
Seriously Gage was definitely one of my favorite Sawyer Bennet books. It was emotional in parts and funny and sexy. It was everything I love in a hockey romance. I do only wish there was a little but more of one thing that happened (I don't want to spoil anything so read to hind out) but I assume we will get that in Coen's book. Definitely recommend this one! Nice addition to the series.
Related Posts