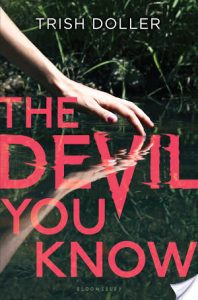 The Devil You Know
by
Trish Doller
Published by
Bloomsbury Publishing USA
Published:
June 2nd 2015
Buy on Amazon
Add to Goodreads

Eighteen-year-old Arcadia wants adventure. Living in a tiny Florida town with her dad and four-year-old brother, Cadie spends most of her time working, going to school, and taking care of her family. So when she meets two handsome cousins at a campfire party, she finally has a chance for fun. They invite her and friend to join them on a road trip, and it's just the risk she's been craving-the opportunity to escape. But what starts out as a fun, sexy journey quickly becomes dangerous when she discovers that one of them is not at all who he claims to be. One of them has deadly intentions.

A road trip fling turns terrifying in this contemporary story that will keep readers on the edge of their seats.
I received this book for free in exchange for an honest review. This does not affect my opinion of the book or the content of my review.
What a story! I mean seriously, WHAT A STORY! It's no surprise really that I loved this. It is Trish Doller after all. But I was scared because it was a slight departure from her other two books I read and loved. (Just look at the cover, that is creeptastic!) Still there was no way I wasn't reading it even with that small fear. And good thing I did. The book was so good! It had the contemporary parts that we know and love from Trish but also had that end of your seat mystery aspect. Loved it.
The Devil You Know is about Cadie (Arcadia), a small town Florida girl that spends her time taking care of her 4 year old brother and grieving dad. Since her mom died Cadie has had no time to herself and because of this decides she has enough and goes to a party. At the party she meets to handsome strangers and for once decides to be a teenager and does what she wants, she takes off with the strangers on a road trip. Enjoying her time commitment free Cadie is loving life until she realizes one of the sexy strangers is hiding something more terrifying than she could even imagine.
I was a nervous wreck reading The Devil You Know. I mean utterly terrified where it would go. Not in the "boo scary" kind of way, but more in the "this dude is psycho and I'm creeped out" kind of way. I guess I figured out who was good and who was so not good pretty early on, but even thinking I knew what was happening I was always uncertain. I love when that happens when I'm reading a mystery/thriller story. I was hooked from page one till the end for this exact reason.
Another reason I was hooked? Cadie. She was this awesome real girl that took on this responsibility without any hesitation. Her brother needed her and so did her dad so she did it all. But she was also still a kid and she still screwed up and made mistakes. She was real and strong and I loved that about her. Did she make the right decision going on a road trip with strangers? I don't know. You'll have to read to find out, but she made the right decision for her at the place she was in her life. She just needed to not be grown-up Cadie for a while so she acted rashly and just went. It was an honest reaction and made me like her even more.
In the end The Devil You Know was excellent. It plays games with your head making you question what you think you know and who is good and who is bad. It will have you dying to get to the end to find out and it will leave you wanting more. It will almost make you want an awesome dog named Molly. Basically you need this book in your life. Now write us more Ms. Doller, write us more.