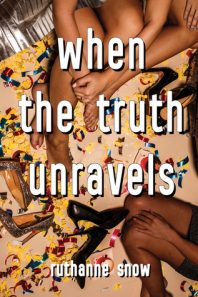 When the Truth Unravels
by
RuthAnne Snow
Published by
Sky Pony
Published:
January 8, 2019
Buy on Amazon
Add to Goodreads
Last month, Elin tried to kill herself.

She knows she's lucky that her parents found her in time. Lucky to be going to prom with her three best friends, like any other teen. Like it never happened. And if she has anything to say about it, no one but her best friends will ever know it did.

Jenna, Rosie, and Ket will do anything to keep Elin's secret--and to make sure it never happens again. That's why they're determined to make prom the perfect night. The night that convinces Elin that life is worth living.

Except, at prom, Elin goes missing.

Now it's up to her friends to find her. But each of the girls has her own demons to face. Ket is being blackmailed by an ex. Rosie is falling in love for the first time. And Jenna . . .

Jenna is falling apart.

And no one, not even her best friends, knows why.

Heart-wrenching and utterly impossible to put down, When the Truth Unravels follows four friends as they confront their greatest hopes and darkest secrets during one life-changing night.
I received this book for free in exchange for an honest review. This does not affect my opinion of the book or the content of my review.
I'm a sucker for books that involve strong female friendships. I often feel like a lot of authors prefer the frienemy over the BFF, so I was really excited about RuthAnne Snow's debut, When the Truth Unravels, a story about 4 best friends hiding a secret about Elin's suicide attempt and secrets about themselves. But the thing about secrets is they catch up to you and almost always come out. And that is what happens to Elin, Rosie, Ket and Jenna in this fantastic story.
When the Truth Unravels is the story of 4 girls trying to find the fact that one of them tried to commit suicide a month ago. Rosie. Ket and Jenna will do anything to help protect their friend, Elin, including pretending that everything is okay and trying to have the perfect prom night. But the fact is, everything isn't okay. Each girl is dealing with their own secrets and trying to keep it all together. And then Elin goes missing and everything falls apart.
The friendship was hands-down the best part of this. These 4 girls were so different from each other yet they all worked as a unit. They played their differences off one another and it made them a strong group. But they also held a lot back from one another which caused more friction. Almost losing Elin put strain on each of them and they dealt with it differently, but in the end they were there for one another. I couldn't help but fall in love with Rosie and Ket's stories more than Jenna and Elin's, but I loved how they all worked combined.
And speaking of Elin, Snow took on a huge task with Elin's story line and her attempted suicide. It was heavy and dark, but it was handle so incredibly well. The way the Elin's story was told managed to keep the darkness to a minimum, but not make it insignificant. The balance was well done and as a reader you were able to understand Elin's pain and how she got to the place she was at, but you were also able to see her hope.
All in all this book was amazingly written. The story was perfectly crafted to show flawed friendships with a deep love. You will laugh and cry and find yourself wanting more; more from these characters and more from this new writer. Make sure you add this to your TBR!