If you follow me on Instagram you will have seen me wearing my new Melissa Frye Boots…like a lot! I have wanted these boots for a really long long time and finally this Christmas, thanks to family and friends, I was able to get them. Honesty, they are EVERYTHING I have ever wanted in a riding boot. Perfect fit, the perfect color, the perfect height on my calf. They are basically amazing!
As you may know, on occasion, I like to pick characters in books and "dress" them. I've dressed Anna from Anna and the French Kiss, Celaena from Throne of Glass/Heir of Fire, Reagan from Open Road Summer and others. I like to test myself and see what I can come up with. So when I thought about my new boots I start to think and wonder which book character would wear these boots? It didn't take long for me to come up with a name. Honestly one name immediately popped into my head. Maya Henry from Jesse's Girl by Miranda Kenneally.
I got to read a very very early draft of Jesse's Girl and I loved Maya right away. She is sassy and has a style all of her own. Don't let her Tennessee roots trick you. This girl is anything but country. And I know all of you don't know her yet, but you will and you will learn her style is all about punk rock. She likes plaids and leather and uses duct tape to make belts. She likes lace and tulle and zippers. She is definitely a different make than you expect. And to show that Miranda Kennealy has offered up a treat to you guys. Below is brief way that Maya describes her style in Jesse's Girl, which is out in July!
"In the bathroom, I examine my outfit to make sure nothing is out of place following our ride. It's totally me, this sleeveless, purple tartan mini dress covered with leather accents and silver zippers. I'm wearing a cropped leather jacket over it. I look good. Take that, Natalia Naylor, you silly supermodel, you. I inhale deeply. Who am I kidding? She's a supermodel! How can I compete with her?" –Jesse's Girl, Miranda Kenneally


Based on this I created a look for Maya built off my Frye Boots, with Maya's boot being black. Girly with an edge and so completely Maya Henry.
If you want to know more about Maya and Jesse, pre-order your copy of Jesse's Girl today! (You can read the first chapter of Jesse's Girl on Miranda's website HERE or on Wattpad HERE.)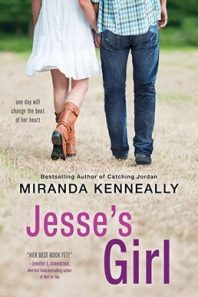 Jesse's Girl
Buy on Amazon
Add to Goodreads
Practice Makes Perfect.

Everyone at Hundred Oaks High knows that career mentoring day is a joke. So when Maya Henry said she wanted to be a rock star, she never imagined she'd get to shadow *the* Jesse Scott, Nashville's teen idol.

But spending the day with Jesse is far from a dream come true. He's as gorgeous as his music, but seeing all that he's accomplished is just a reminder of everything Maya's lost: her trust, her boyfriend, their band, and any chance to play the music she craves. Not to mention that Jesse's pushy and opinionated. He made it on his own, and he thinks Maya's playing back up to other people's dreams. Does she have what it takes to follow her heart—and go solo?
Want me to dress a character in your book or in a book you love? Let me know.
Related Posts