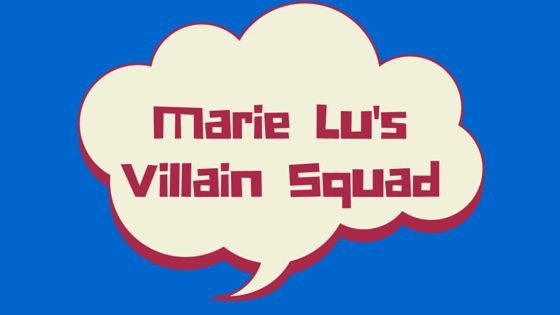 The second book, The Rose Society, in the New York Times Best Selling series, The Young Elites, by Marie Lu will be released on October 13, 2015, with the paper back of The Young Elites currently in stores. The series is about power-hungry Adelina's rapid descent into paranoia and madness, as she pulls together her own society of gifted and ruthless malfettos, determined to overthrow those persecuting their kind.
I was asked by Penguin to create my own kind of Villain Identity which was really fun to think about. Honestly I wasn't sure what I was going to do but then I was inspired when I saw Erin and Jaime's post and I got an idea of what my Villain identity would be.
I don't have a lot of bad books habits, unless you count buying too many way one. I mean I don't dog ear pages, I don't crack spines and I don't usually read the end of the book first. But I do have one habit:
Yup, I admit it, I flip through books sometimes just to find the kissing scenes. It is a sickness that I can't break. I mean when I am reading certain books I use all the willpower I have not to flip through the book but it isn't always so successful. I just need to know how many pages I have to wait until I get some of my happily ever after, you know, before the inevitable break-up. So yes, I am Andi and my villain name is The Kiss Searcher.
*thank you Jaime and Erin for giving me the idea!
The Young Elites
by
Marie Lu
Published by
Speak
Published:
August 25th 2015
Buy on Amazon
Add to Goodreads
Adelina Amouteru is a survivor of the blood fever. A decade ago, the deadly illness swept through her nation. Most of the infected perished, while many of the children who survived were left with strange markings. Adelina's black hair turned silver, her lashes went pale, and now she has only a jagged scar where her left eye once was. Her cruel father believes she is a malfetto, an abomination, ruining their family's good name and standing in the way of their fortune. But some of the fever's survivors are rumored to possess more than just scars—they are believed to have mysterious and powerful gifts, and though their identities remain secret, they have come to be called the Young Elites.

Teren Santoro works for the king. As Leader of the Inquisition Axis, it is his job to seek out the Young Elites, to destroy them before they destroy the nation. He believes the Young Elites to be dangerous and vengeful, but it's Teren who may possess the darkest secret of all.

Enzo Valenciano is a member of the Dagger Society. This secret sect of Young Elites seeks out others like them before the Inquisition Axis can. But when the Daggers find Adelina, they discover someone with powers like they've never seen.Adelina wants to believe Enzo is on her side, and that Teren is the true enemy. But the lives of these three will collide in unexpected ways, as each fights a very different and personal battle. But of one thing they are all certain: Adelina has abilities that shouldn't belong in this world. A vengeful blackness in her heart. And a desire to destroy all who dare to cross her.

It is my turn to use. My turn to hurt.
Coming Soon: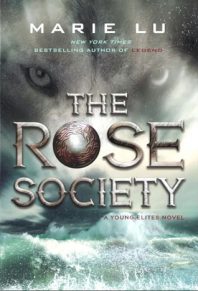 The Rose Society (The Young Elites #2)
by
Marie Lu
Published by
G.P. Putnam's Sons Books for Young Readers
Buy on Amazon
Add to Goodreads
Once upon a time, a girl had a father, a prince, a society of friends. Then they betrayed her, and she destroyed them all.

Adelina Amouteru's heart has suffered at the hands of both family and friends, turning her down the bitter path of revenge. Now known and feared as the White Wolf, she and her sister flee Kenettra to find other Young Elites in the hopes of building her own army of allies. Her goal: to strike down the Inquisition Axis, the white-cloaked soldiers that murdered her love, the Crown Prince Enzo Valenciano.

But Adelina is no heroine. Her powers, fed only by fear and hate, have started to grow beyond her control. She does not trust her newfound Elite friends. Teren Santoro, leader of the Inquisition, wants her dead. And her former friends, Raffaele and the Dagger Society, want to stop her thirst for vengeance. Adelina struggles to cling to the good within her. But how can someone be good, when her very existence depends on darkness?

Related Posts