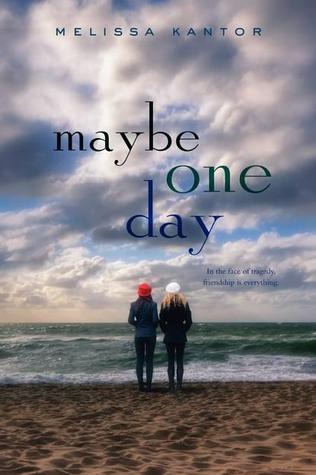 Title: Maybe One Day [Amazon]
Author: Melissa Kantor  [website]
Publisher: Harper Teen
Genre: Contemporary
Source/Type: Edelweiss/Digital ARC
Stars: 5 of 5
Publisher Description:
Zoe and her best friend, Olivia, have always had big plans for the future, none of which included Olivia getting sick. Still, Zoe is determined to put on a brave face and be positive for her friend.
Even when she isn't sure what to say.
Even when Olivia misses months of school.
Even when Zoe starts falling for Calvin, Olivia's crush.
The one thing that keeps Zoe moving forward is knowing that Olivia will beat this, and everything will go back to the way it was before. It has to. Because the alternative is too terrifying for her to even imagine.
My Thoughts:
Holy broken heart batman!  There are very few books out there that can make me have the ugly cry moment and this one has made the list. I cried three, yes, THREE, times reading this…IN PUBLIC! But seriously Maybe One Day may be one of the best friendship stories I have ever read and it was worth all the public humiliation.
Maybe One Day is the story of Zoe and Olivia, two best friends that have a plan for their future. They were both going to become prima ballerinas and live a swanky life in New York, leaving their New Jersey home behind. They already did everything together so this was the next obvious step. That is until Olivia gets sick and suddenly everything is different for the two once carefree girls. As Olivia deals with her deal problems Zoe is left to deal with her life without Olivia and her feelings for the boy Olivia is crushing on.  As time goes on these two best friends are challenged in a way they never expected and just pray and hope for things to go back to normal because if they can't, what will that mean.
The thing is, I will 100% admit that I am a romance junky when it comes to reading. That thrill you get when reading about a girl getting together with her crush is really unexplainable. And because of this I have a hard time with books that are missing that aspect. Maybe One Day though, is an exception to that because this book wasn't about Zoe falling for Olivia's crush or the will they/won't they plot. This book was about a true, real friendship which is very rare in YA books. Maybe One Day isn't about girls that are more frenemies than friends. It is a story of reality and the kinds of friendships I grew up with. Was there a bit of romance, sure. But it wasn't the main focus and that is what made this book special to me.
Maybe One Day straight up was real and honest and it hurt to read. It had a great plot, great characters and outstanding writing and I think that is why it is an ugly cry book. These two girls are so young and have to deal with something unimaginable because let's face it, at 16, we all think we are untouchable. Seeing both of them struggle in their own way with Olivia's illness and try to cope with reality touched my heart in a way few books have. Definitely a book that has and will stay with me for a long time and one I definitely recommend to anyone looking for a great look at a real friendship.
Related Posts