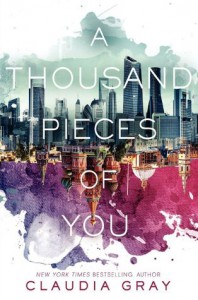 A Thousand Pieces of You
by
Claudia Gray
Series:
Fire Bird #1
Published by
Harper Collins
Published:
November 4th 2014
Buy on Amazon
Add to Goodreads
Cloud Atlas meets Orphan Black in this epic dimension-bending trilogy by New York Times bestselling author Claudia Gray about a girl who must chase her father's killer through multiple dimensions. Marguerite Caine's physicist parents are known for their groundbreaking achievements. Their most astonishing invention, called the Firebird, allows users to jump into multiple universes—and promises to revolutionize science forever. But then Marguerite's father is murdered, and the killer—her parent's handsome, enigmatic assistant Paul—escapes into another dimension before the law can touch him.

Marguerite refuses to let the man who destroyed her family go free. So she races after Paul through different universes, always leaping into another version of herself. But she also meets alternate versions of the people she knows—including Paul, whose life entangles with hers in increasingly familiar ways. Before long she begins to question Paul's guilt—as well as her own heart. And soon she discovers the truth behind her father's death is far more sinister than she expected.

A Thousand Pieces of You, the first book in the Firebird trilogy, explores an amazingly intricate multiverse where fate is unavoidable, the truth elusive, and love the greatest mystery of all.
I received this book for free in exchange for an honest review. This does not affect my opinion of the book or the content of my review.
Parallel life books are totally my jam. Just the idea that a parallel world can exist just because I took a left instead of a right, a world where I read and hated Anna and the French Kiss instead of loved it, a world where books don't even exist, fascinates me. So when I heard about A Thousand Pieces of You I knew I needed to read it. And then when I saw the cover it was a MUST READ. Was I nervous? Sure. I mean the cover is amazing. Would the book live up to that beauty? 100% yes! A Thousand Pieces of You was pretty great.
A Thousand Pieces of You is about Marguerite Caine, the daughter of two brilliant scientists that have developed a device that allows people to travel through parallel dimensions. But with power like that, there is always a danger. And when Marguerite's father is killed Marguerite has a suspect and it is a close family friend, her parent's research assistant, Paul. The Paul goes missing and Marguerite is left with a choice. Do nothing or go after the guy she thought she knew and find out just what actually happened. With the help of Theo, another assistant to her parents, Marguerite travels from parallel dimension to parallel dimension in search of Paul. But while finding him may be easy, finding answers may not be as easy as it looks.
This book was quite a ride. I had feelings from the very beginning (I even sent messages to a reading friend that read it about my theories and feels!) on how some of this would go down. I mean I had strong feelings how I wanted it to go down and really just hoped I was right. (Spoiler alert, I was half right. HEHE.) The mystery woven into the details of the parallel dimensions really made the story totally enjoyable. And the characters and their slightly changing personalities helped that as well.
But my favorite part of the book was 100% the world building of the other worlds. That world building was a character of its own. Gray was able to really have the freedom to run with her imagination. She was able to really anything she wanted because, with parallel universes, anything and everything is possible. And what I liked even more than the world building was the characters in the world. Gray wrote this book in such a way that really made you think what part of you is still part of the parallel you. It was really mind-blowing when you start to think about it and see what Gray did. Basically loved it.
A Thousand Pieces of You was a great read and lived up to the expectations of the cover. It was a great story of finding out who you are even when pieces of you are all over the place. How you can feel whole and what really can matter to you. The mystery and back story was great and the characters were awesome. I loved the worlds created and I positively can't wait for the next book. And not just for the story, but the cover too.
Related Posts