Andi: Karen! I may be totally fangirling right now over the chance to ask you some questions. I mean I haven't hidden the fact that I love this duology to death. You have seen my crazy love and push of Loop on everyone. J So, let's start easy. Where did you get the idea for Loop and Twist?
Karen: Aww! Thanks so much for having me on your blog today.
Odd as it may sound, a video game actually inspired LOOP. I had fallen asleep watching my husband play this intense game with a bunch of jumping off buildings and grappling hooks, and I had a vivid, action-packed dream. Then right before I woke up, I dreamt the twist of LOOP, that there was a boy who was already in love with a time traveler's future self when she meets him. It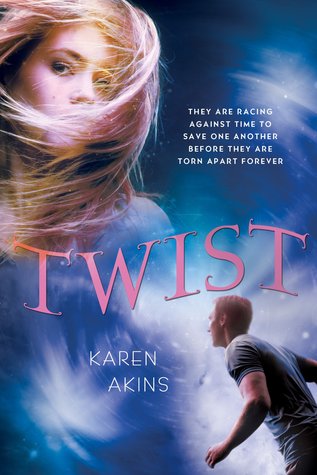 was an interesting experience because when I woke up, I felt all these deep emotions. The plot, well, I had to beat into submission over time. But the thing that was most important to me was getting those emotions onto the page, and I feel like I succeeded.
TWIST was inspired by, of all things, a Sting song, When We Dance. I was driving along, listening to the song, and it kind of just hit me, where I wanted to take Bree and Finn's journey. And how I wanted it to end.
Andi: I must admit that I didn't know what I thought of Bree in the beginning, but as I got to know her she cracked me up. She was kind of crazy crackers and I loved that. What was the inspiration for her? How did you come up with her different kind of dialect?
Karen: Thanks! I love her, too. She also drives me really crazy at times. Bree's probably the least like me of any character I've ever written. She wasn't based on anyone I know, but there were several songs on my playlists that helped me sort through her voice. Specifically The Ting-Ting's "Shut Up & Let Me Go" nailed her sometimes prickly, stand-offish side at the beginning of LOOP. (PLAYLIST)
And then, on TWIST's playlist, "Let Your Heart Hold Fast," by Fort Atlantic really spoke to me about how Bree had grown in both trusting herself and trusting others. (PLAYLIST)
Her dialect…what the blark are you talking about? (Sorry. That was terrible, and I know it. And come to think of it, Bree probably did get her sarcasm from me.)
A few Bree-isms and where they came from:
Blark – This is homage to Liz Lemon's "Blerg," on 30 Rock. I also like how it can function as any part of speech. Noun, verb, adjective, adverb.

Crapcakes, Holy Crapoli, ohcrapohcrapohcrap, etc. – Bree might be the bristly type, but she's not one to cuss a blue streak. Crap fills in nicely.
Plinky – This one comes from my favorite The Price Is Right game of all time. Plinko. I remember the sheer joy I would experience when I'd be home on a sick day growing up, watching Bob Barker, and they'd pull out the Plinko board. That game is pure awesome, so that's what the word means.
Muffy van Sloot – When I first typed the words, "Muffy van Sloot," I had no plan and no idea who she was. It just kind of came out, and I was as curious as I hope readers are.
Wyck – (Okay, this isn't a Bree word, but there's a story behind it.) When I first started writing LOOP, I needed a rough plot outline to hang the story on, and I chose Pride & Prejudice. Namely, the Bree/Finn and Elizabeth/Mr. Darcy dynamic…a disastrous first meeting, then his feelings changing before hers had. Wyck is short for Wickham. J And I will happily send a swag pack to any reader who can figure out which other Austen novel TWIST is super-loosely based on.
Andi: And speaking of dialect, um, PEGAMOO! Where did this wonderful, glorious idea some from? How can I get one? Where can I buy one?
Karen: Pegamoos were actually a pretty late addition to the books. I was doing revisions for my editor, and she asked to see a bit more of what life was like in the future. A friend of mine had recently told me about miniature cows. Cattle ranchers have basically created these mini breeds by mating the smallest of each generation. Full-grown, they stand between 36-42 inches tall. Obviously, I was like, "SHUT UP AND TAKE MY MONEY."
I extrapolated, and in 200 years, if you continued to breed the smallest of them, I bet they would be pretty tiny. And the flying part? Well, that's just pure wish fulfillment.
Andi: Seriously though, Loop and Twist, especially Twist, made my mind hurt at times with future Bree and current Bree. I was amazed with how I got to one point in the book and I was like "Oh, everything just clicked into place!". As a writer, how the heck did you keep it all straight? I can't imagine how you managed to do it and make it come off so effortless.
Karen: Lots of coffee, post-it notes, and tears.
When I realized that I had this idea for a time travel story, I sat on the edge of my bed and I asked myself, "Do I really want to write this?" (And it's funny…it's hard for me to separate out LOOP and TWIST in my mind because while I wrote them at different times, I see it as one complete story.)
The hardest part about writing TWIST specifically was that I drafted the entire thing while pregnant and then revised it while I had a newborn. I was sleep-deprived, and my brain felt like it had turned to goop by the time I was done. It was worth it, but I had to get some strongly-worded pep talks from writer friends along the way.
Did I mention post-it notes? And coffee?
Andi: So you obviously know I'm a HUGE book pusher for your books.
Karen: Yes. Thank you very much. 🙂
Andi: Do you have a book(s) that you push on people?
Karen: I love Beth Revis's Across The Universe series. It has a blend of mystery, action, and accessible sci-fi, all of which I love.
Also, TWIST shares a book birthday with I.W. Gregorio's NONE OF THE ABOVE, and it's another one I'm going to be pushing on people. I was able to read an early version of this story, and it's phenomenal. I can't wait to get my grabby hands on it.
Okay, this one's really early (as in, doesn't come out until next year), but I just got to read THE TSAR'S GAME by Evelyn Skye. It is so good. The story sweeps you up into this magical alternate history of Imperial Russia. There's no cover yet, but go add it to your to-read list now. Trust me.
Andi: And the question I ask every interview I do…since my blog also deals with accessories and clothes, what is the one accessory or clothing item you couldn't live without?
Karen: I know that technically it's not an accessory, but I'm going to say my Erin Condren planner. That thing goes everywhere with me. I feel genuinely naked without it. And I can switch out the covers, so I can match it to whatever I'm wearing.
Thank you SO much for having me on your blog! I hope everybody has fun reading TWIST!!
About the Book:
Twist
Published by
St. Martin's Press
Published:
March 31st 2015
Buy on Amazon
Add to Goodreads
Bree Bennis finally has it all-a non-comatose mother, an uber-hot (albeit anachronistic) boyfriend named Finn, and a newfound mission to protect the timeline from those who would skew it for their own gain. But when she leans over one day to smooch said boyfriend, her lips meet those of her arch-nemesis Wyck instead. The timeline has been altered, and Bree is caught in the crosshairs. But when she goes back to repair the damage, she is stopped by none other than her Future Self, who delivers an urgent message: Someone is kidnapping Shifters from the distant past. It's up to Bree to stop them. But first, she has to figure out who…and why.

To follow the trail of chronocrumbs, Bree reluctantly accepts her new undercover gig as Wyck's girlfriend. Everything goes spiffy until Finn shows up in the 23rd century on the eager arm of a gorgeous fellow Shifter. Blark. Even as Bree struggles with jealousy, she battles the nagging dread that Finn might be better off with someone less chronologically complicated. Her worst fear is confirmed when Finn becomes the kidnapper's next victim. As Bree zeroes in on the culprit, they unravel her life one timeline-change at a time. She realizes that she alone has the power to save herself and everyone she loves. But to do that, she may lose Finn forever.
Don't forget to check out my TWO Twist related giveaways happening! HERE and HERE
Related Posts