Since January 1st I have read 28 books. 6 of those books have been 5 star rereads, 4 have been unrated as of yet, and 12 have fallen somewhere in between. But in all 28 of those books I have managed to read 6 new books that I have loved so much I have given them 5 stars. Most of these books aren't out yet (mostly summer releases), one will be out a week from tomorrow, and one came out last year. Truthfully though I'm thrilled that 21% of my reading for 2017 has included new 5 star books.  Since I'm so excited about these 6 books I thought it was only fair to share and get you excited for them too.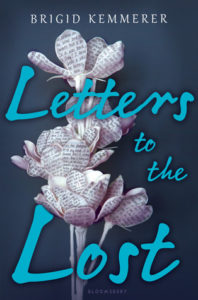 Letters to the Lost
by
Brigid Kemmerer
Published by
Bloomsbury USA Childrens
Published:
April 4th 2017
Buy on Amazon
Add to Goodreads
Juliet Young always writes letters to her mother, a world-traveling photojournalist. Even after her mother's death, she leaves letters at her grave. It's the only way Juliet can cope.

Declan Murphy isn't the sort of guy you want to cross. In the midst of his court-ordered community service at the local cemetery, he's trying to escape the demons of his past.

When Declan reads a haunting letter left beside a grave, he can't resist writing back. Soon, he's opening up to a perfect stranger, and their connection is immediate. But neither Declan nor Juliet knows that they're not actually strangers. When life at school interferes with their secret life of letters, sparks will fly as Juliet and Declan discover truths that might tear them apart.
~~~~~~~~~~~~~~
All Things New
by
Lauren Miller
Published by
Three Saints Press
Add to Goodreads
From the author of PARALLEL and FREE TO FALL comes a novel about how it feels to be broken and what it means to be real.
Seventeen-year-old Jessa Gray has always felt broken inside, but she's gotten very good at hiding it. No one at school knows about the panic attacks, the therapy that didn't help, the meds that haven't worked. But when a severe accident leaves her with a brain injury and noticeable scars, Jessa's efforts to convince the world that she's okay finally crumble—now she looks as shattered as she feels. Fleeing from her old life in Los Angeles, Jessa moves to Colorado to live with her dad, but things go from bad to worse when she realizes she's seeing bruises and scars on the people around her that no one else can see. She blames it on the accident, but as her body heals and the hallucinations continue, Jessa wonders if what she's seeing could somehow have a deeper meaning. In her quest for answers, she falls for Marshall, a boy whose kindness and generous heart slowly draw Jessa out of her walled-off shell and into the broken, beautiful, real world—a place where souls get hurt just as badly as bodies, and we all need each other to heal.
ALL THINGS NEW is a love story about perception and truth, physical and emotional pain, and the messy, complicated people we are behind the masks we put on for the world.
~~~~~~~~~~~~~~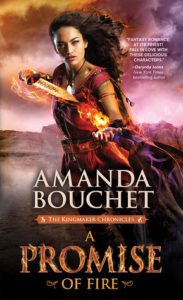 A Promise of Fire
by
Amanda Bouchet
Published by
Sourcebooks Casablanca
Buy on Amazon
Add to Goodreads
KINGDOMS WILL RISE AND FALL FOR HER...
BUT NOT IF SHE CAN HELP IT

Catalia "Cat" Fisa lives disguised as a soothsayer in a traveling circus. She is perfectly content avoiding the danger and destiny the Gods-and her homicidal mother-have saddled her with. That is, until Griffin, an ambitious warlord from the magic-deprived south, fixes her with his steely gaze and upsets her illusion of safety forever.

Griffin knows Cat is the Kingmaker, the woman who divines the truth through lies. He wants her as a powerful weapon for his newly conquered realm-until he realizes he wants her for much more than her magic. Cat fights him at every turn, but Griffin's fairness, loyalty, and smoldering advances make him increasingly hard to resist and leave her wondering if life really does have to be short, and lived alone.
~~~~~~~~~~~~~~
The Adjustment
by
Suzanne Young
Series:
The Program #3
Buy on Amazon
Add to Goodreads
How do you go back to a life you can't remember? Find out in this follow up to the New York Times bestselling The Program and The Treatment.

Tatum Masterson never went through The Program. She never had her memory stripped, never had to fight to remain herself. But when Weston, her longtime boyfriend and love of her life, was taken by handlers, she hoped he'd remember her somehow—that their love would be strong enough.

It wasn't.

Like all returners, Weston came back a blank canvas. The years he and Tatum spent together were forgotten, as well as the week when he mysteriously disappeared before The Program came for him.

Regardless of his memory loss, Tatum fights to get Weston to remember her. And just as they start to build a new love, they hear about the Adjustment—a new therapy that implants memories from a donor. Despite the risks, Tatum and Weston agree to go through the process. Tatum donates her memories from their time together.

But the problem with memories is that they are all a matter of perspective. So although Weston can now remember dating Tatum, his emotions don't match the experiences. And this discrepancy is slowly starting to unravel him, worse than anything The Program could have done.

And as the truth of their life together becomes clear, Tatum will have to decide if she loves Weston enough to let him go, or to continue to live the lie they'd build together.

Prepare for your Adjustment.
~~~~~~~~~~~~~~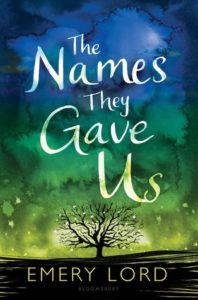 The Names They Gave Us
by
Emery Lord
Published by
Bloomsbury USA Childrens
Buy on Amazon
Add to Goodreads
Lucy Hansson was ready for a perfect summer with her boyfriend, working at her childhood Bible camp on the lake. But when her mom's cancer reappears, Lucy falters—in faith, in love, and in her ability to cope. When her boyfriend "pauses" their relationship and her summer job switches to a different camp—one for troubled kids—Lucy isn't sure how much more she can handle. Attempting to accept a new normal, Lucy slowly regains footing among her vibrant, diverse coworkers, Sundays with her mom, and a crush on a fellow counselor. But when long-hidden family secrets emerge, can Lucy set aside her problems and discover what grace really means?
~~~~~~~~~~~~~~
Words in Deep Blue
by
Cath Crowley
Buy on Amazon
Add to Goodreads
Years ago, Rachel had a crush on Henry Jones. The day before she moved away, she tucked a love letter into his favorite book in his family's bookshop. She waited. But Henry never came.

Now Rachel has returned to the city—and to the bookshop—to work alongside the boy she'd rather not see, if at all possible, for the rest of her life. But Rachel needs the distraction. Her brother drowned months ago, and she can't feel anything anymore.

As Henry and Rachel work side by side—surrounded by books, watching love stories unfold, exchanging letters between the pages—they find hope in each other. Because life may be uncontrollable, even unbearable sometimes. But it's possible that words, and love, and second chances are enough.
~~~~~~~~~~~~~~
What 5 star books have you read so far this year? Are any of these on your TBR?
Related Posts