I'm aware it is only July of 2017. In my mind I know there are plenty of books coming out in the next months that I am desperate to read. But if I'm honest I keep looking at my 2018 book list on Goodreads and getting all the book envy. There are so many books coming out in 2018 and I'm dying for them all. I mean there is the given, the 7th book in the Throne of Glass series and the announce 4th book in the ACOTAR series, plus the Meet Cute compilation, but there are some series that are starting and ending and plain old books by authors I love. Really, is there anything wrong with being excited for 2018 and all the amazing books that will be released? I think not.
Currently I have 28 books on my 2018 TBR, but I thought I would showcase the 6 I'm super excited for: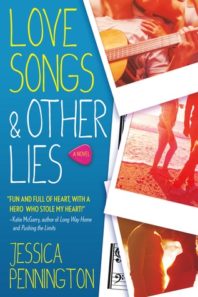 Love Songs & Other Lies
by
Jessica Pennington
Published by
Tor Teen
Published:
April 24th 2018
Buy on Amazon
Add to Goodreads
It's summer romance and second chances, the songs that stay in your head, and the boy you'll never forget.

Two years after rock-song-worthy heartbreak, Virginia Miller is looking forward to a fun, carefree summer. Her friends just landed a spot on a battling bands reality show, and Vee is joining them for her dream internship on tour. Three months with future rockstars seems like an epic summer plan. Until she learns she'll also be sharing the bus with Cam. Her first love, and her first heartbreak. Now Vee has more than just cameras to dodge, and Cam's determination to win her forgiveness is causing TMZ-worthy problems for both of them. With cameras rolling, she'll have to decide if her favorite breakup anthem deserves a new ending. And if she's brave enough to expose her own secrets to keep Cam's under wraps.
~~~~~~~~~~~~~~~~~~~~~~~
Reign the Earth
by
A.C. Gaughen
Published by
Bloomsbury
Published:
January 30th 2018
Buy on Amazon
Add to Goodreads
Shalia is a proud daughter of the desert, but after years of devastating war with the adjoining kingdom, her people are desperate for peace. Willing to trade her freedom to ensure the safety of her family, Shalia becomes Queen of the Bonelands.

But she soon learns that her husband, Calix, is motivated only by his desire to exterminate the Elementae—mystical people who can control earth, wind, air, and fire. Even more unsettling are Shalia's feelings for her husband's brother, which unleash a power over the earth she never knew she possessed—a power that could get her killed. As rumors of a rebellion against Calix spread, Shalia must choose between the last chance for peace and her own future as an Elementae.

This intense, richly drawn high-fantasy by the author of Scarlet will hold readers spellbound.
~~~~~~~~~~~~~~~~~~~~~~~
The Complication by Suzanne Young
Published by Simon Pulse
Published: April 24th 2018
Buy on Amazon
Add to Goodreads

How do you go back to a life you can't remember? Find out in this sixth novel in the New York Times bestselling Program series from Suzanne Young.

Every cure has a cost.

Tatum Masterson learned this after years of being monitored by The Program. She witnessed it when her boyfriend, Wes, came back changed, erased. And now, even the newest "cure" has a heavy cost—one she and Wes paid.

The Adjustment came into Tatum's life just when she thought she needed it most, a promise for Wes to get back his forgotten memories. But when the procedure went wrong, a revelation shattered everything Tatum thought she knew.

Now, with no one left to trust, Tatum must find out what really happened last summer. And with the help of the boyfriend she lost, Tatum will have to dig into the past and future of The Program and its handlers.

And discover the true cost of a cure.
~~~~~~~~~~~~~~~~~~~~~~~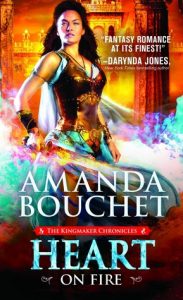 Heart on Fire by Amanda Bouchet
Published: January 2nd 2018
Buy on Amazon
Add to Goodreads

The riveting conclusion to the Kingmaker Chronicles, available January 2018!

Who is Catalia Fisa?With the help of pivotal figures from her past, Cat begins to understand the root of her exceptional magic, her fated union with Griffin Sinta, and Griffin's role in shaping her destiny.

Only Cat holds the key to unlocking her own power, and that means finally accepting herself, her past, and her future in order to protect her loved ones, confront her murderous mother, and taking a final, terrifying step--reuniting all three realms and taking her place as the Queen of Thalyria.

What doesn't kill her will only make her stronger...we hope.
~~~~~~~~~~~~~~~~~~~~~~~
More Than We Can Tell by Brigid Kemmerer
Published by Bloomsbury Children's
Published: March 6th 2018
Buy on Amazon
Add to Goodreads

From the author of Letters to the Lost comes a heart-wrenching story of two teens with big secrets and a love that could set them free.

Rev Fletcher is battling the demons of his past. But with loving adoptive parents by his side, he's managed to keep them at bay...until he gets a letter from his abusive father and the trauma of his childhood comes hurtling back.

Emma Blue spends her time perfecting the computer game she built from scratch, rather than facing her parents' crumbling marriage. She can solve any problem with the right code, but when an online troll's harassment escalates, she's truly afraid.

When Rev and Emma meet, they both long to lift the burden of their secrets and bond instantly over their shared turmoil. But when their situations turn dangerous, their trust in each other will be tested in ways they never expected. This must-read story will once again have readers falling for Brigid Kemmerer's emotional storytelling.
~~~~~~~~~~~~~~~~~~~~~~~
Starry Eyes by Jenn Bennett
Published by Simon Pulse
Published: April 3rd 2018
Buy on Amazon
Add to Goodreads

In this romantic dramedy from the author of Alex, Approximately, a teen girl's way-too-ordinary life is driven off the beaten path when she's abandoned in the wilderness with her worst adversary—the boy who broke her heart.

Ever since last year's homecoming dance, best friends-turned-best enemies Zorie and Lennon have made an art of avoiding each other. It doesn't hurt that their families are the modern day, Californian version of the Montagues and Capulets.

But when a group camping trip goes south, Zorie and Lennon find themselves stranded in the wilderness. Alone. Together.

What could go wrong?

With no one but each other for company, Zorie and Lennon have no choice but to hash out their issues via witty jabs and insults as they try to make their way to safety. But fighting each other while also fighting off the forces of nature makes getting out of the woods in one piece less and less likely.

And as the two travel deeper into Northern California's rugged backcountry, secrets and hidden feelings surface. But can Zorie and Lennon's rekindled connection survive out in the real world? Or was it just a result of the fresh forest air and the magic of the twinkling stars?
~~~~~~~~~~~~~~~~~~~~~~~
Are you excited for any of these in 2018? What books do I need to have on my TBR that may be an Andi book?
Related Posts