In 2014 and 2015 I tried Stitch Fix (1, 2, 3, 4, 5) a bunch of times. I was a fan for the most part and never had a problem. But in 2016 when I tried to get one more fix I had a massive issue and I never used the company again. Since that day I had stayed away from all shopping service type of things. That us until a friend of my aunt invited me to try Trunk Club. At first I deleted the email because I had reached my limit with those types of services. I knew it was Nordstrom based so I knew it would be pricey too. But after talking to Wendy, who had recently gotten a trunk, I changed my mind and dug the email out of my trash and signed up. I was pleasantly surprised by what I found.
What is Trunk Club?
I'm sure their FAQ section can answer better than I can, but the main explanation is that it is a service where a stylist picks out 10 items (from clothing to jackets to shoes) and they are sent to your house for you to try on and decide what you like and don't like. It only cost $25 to order the trunk (that fee is waived if you use your Nordstrom debit or credit card) and the $25 comes the final bill if you decide to buy something. Seriously though, go check out the FAQ section. They explain it way better.
Basically after I signed up I was connected to a stylist, Amy. Amy and I talked over Trunk Club messenger for a couple of days while she figured out what my style is. We talked about shirt fit, pants style I like, what I wear more of. Based off of this and the survey I filled out Amy created a trunk for me to look at before it is sent. I got to decide if I liked what she was sending before getting it (that is not something Stitch Fix offered). After I agreed on all 10 items I waited for my trunk to arrive and then it was try on/decision. time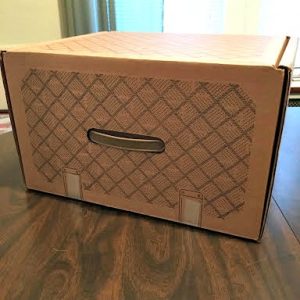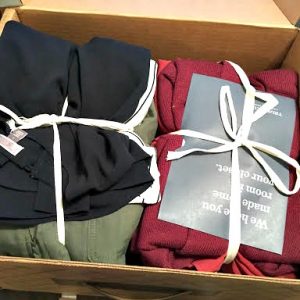 What did I get in the trunk and how did it fit?
The Farrah High Waist Skinny Jeans by AG – $126
I knew when I saw these in the box that I was going to love them. I have heard great things about AG denim and as soon as I put them on I knew why. They fit me perfectly. I immediately fell in love.
Ruffle Utility Jacket by Hinge – $89
I hated the sleeves on this. The jacket itself was cute but the weird bell sleeve did nothing for me at all. Plus I have an army green jacket and didn't need another.
Chelsea28 Flare Sleeve Crewneck – $69
I really did not love this. It had the bell sleeve I hate and it was an awkward fit.
Endless Empire Matte  Satin Blouse by Nic & Zoe – $128
So not worth the price. There was nothing special about it at all.
V Neck Tunic by BP – $45
I loved this one a lot. It was comfy and fit great. And I loved the oatmeal type color of it.
Twist Hem Tee by BP – $29
I loved this a lot too. It was comfy and casual and just fun with that hint of interest with the tie at the side.
Open Front Cardigan by BP – $49
This was actually on my wishlist so I was really happy when I saw it in my trunk before it shipped. It was super cozy and would be a total comfort piece for those chilly winter nights in New England.
Long Sleeve Side Slit Tee by BP – $19
I really liked the fit of this. It was good because you could wear it long with leggings or tuck it in because of the side slits. Plus I love a good stripe.
Shawl Collar Cardigan by Leith – $79
This was a no for me. It reminded me of 2000 when this sweaters were all I wore.
Cade Boots by Halogen – $119.95
These were fabulous. They were soft and fit well and the color was awesome.
What did I keep?
In the end I decided on one item even though I was pretty happy with a few of them. It was a tough call but I knew there was one I needed in my wardrobe and would get a lot of wear out of.
I got the jeans. They were just too perfect to pass up.
Interested in Trunk Club?
I highly recommend trying this service. It is like having a Nordstrom personal shopper and you never have to leave home. If you are interested please feel free to use my referral link. I would greatly appreciate it if you did. Just click on the banner below.
Feel free to hit me up with any questions!
Related Posts