In 2018 I had the idea to have readers and friends read my favorite books from years past. I had 20+ amazing people sign up and read some of my all-time favorite books. They took the time out of their busy lives and reading schedules and read books I love and shared what they thought on my blog. It was a lot of fun and I got to see some new takes on old favorites. It actually was a fun experience. If you are interested in the reviews HERE.
This year I decided to give back in a way and asked everyone that signed up to tell me their favorite book (that I have not read) because in 2019 it is time to do NEW TO ME.
~~~~~~~~~~~~~~~~~~~~~~~
I knew going into this feature there may be books that weren't for me. I was hopeful it wouldn't happen, but not delusional. If we all loved the same things and didn't have different tastes the world would be a dull place.
That being said I was really disappointed when it was almost 2 weeks in and I had only gotten through 83 pages of Daughter of Smoke and Bone. Honestly you guys, I tried. I gave it my all, but we just didn't click. From what I read the imagery was stunning and the characters were there but I just wasn't invested enough to want to read more and jump into that world. And you know what? That's okay. It doesn't mean I'm a bad book nerd, it just means I have 678 books on my TBR and I don't need to waste my reading time on something that isn't bringing me happiness at that point in time. It's okay to put it aside and maybe pick it up again, or maybe not.
In my years of keeping track of my reading, I have quit 22 books, all for varying reasons and at varying points in the story. Some of those books have 4 plus star ratings on Goodreads. Just because a book isn't for me doesn't mean it isn't for everyone else. As a reader, we have to remember that and know it is okay to let go and move on. Daughter of Smoke and Bone wasn't for me, but it was for others, and here is why they loved it:
Oh man. Sorry to hear that. It's been a while. But I remember loving the gorgeous writing and the imagery. There were a couple moments in the book that were so vivid I can remember them still so clearly even though It's been a LONG time.

— Cora Carmack (@CoraCarmack) March 25, 2019
Oh no, I'm sorry you're not enjoying it! ☹️ DOSAB is one of my absolute favorites. I love how whimsical and descriptive the writing style is, and I LOVE the angsty romance. It hurts my heart, but in a good way. ? Also love the snark—Karou and Zuze are friendship goals.

— Alex ?? (@booksydaisy) March 25, 2019
I will say – this series is like an iceberg. You're getting a little bit right now during the first book, but Laini Taylor ramps things up so much as it progresses. If the first half seems slow, it is definitely worth it to at least try.

— Paige! ??⚔ (@paigesquared) March 25, 2019
I loved the writing and the character of Karu. I keep reading as I wanted to know more about her and how she ended up where she did. the narrator was also fantastic and she kept me listening. The print I had a hard time getting into initially

— Irish / Gail ? (@Irisheyz77) March 25, 2019
There are countless of other reviews out there on Goodreads so make sure you check them all out.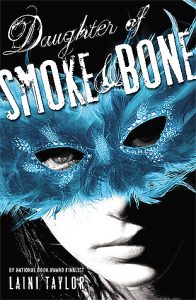 Daughter of Smoke & Bone
by
Laini Taylor
Published:
September 27, 2011
Buy on Amazon
Add to Goodreads
Around the world, black hand prints are appearing on doorways, scorched there by winged strangers who have crept through a slit in the sky.

In a dark and dusty shop, a devil's supply of human teeth grows dangerously low.

And in the tangled lanes of Prague, a young art student is about to be caught up in a brutal otherworldly war.

Meet Karou. She fills her sketchbooks with monsters that may or may not be real, she's prone to disappearing on mysterious "errands", she speaks many languages - not all of them human - and her bright blue hair actually grows out of her head that color. Who is she? That is the question that haunts her, and she's about to find out.

When beautiful, haunted Akiva fixes fiery eyes on her in an alley in Marrakesh, the result is blood and starlight, secrets unveiled, and a star-crossed love whose roots drink deep of a violent past. But will Karou live to regret learning the truth about herself?
~~~~~~~~~~~~
And there you have it, March's book selection for New to Me. Sorry I couldn't do better, but I can only be me.
Related Posts