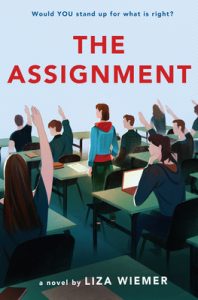 The Assignment
by
Liza M. Wiemer
Published by
Delacorte Press
Published:
August 25, 2020
Buy on Amazon
Add to Goodreads
Senior year. When an assignment given by a favorite teacher instructs a group of students to argue for the Final Solution, a euphemism used to describe the Nazi plan of genocide of the Jewish people, Logan March and Cade Crawford are horrified. Their teacher cannot seriously expect anyone to complete an assignment that fuels intolerance and discrimination. Logan and Cade decide they must take a stand.

As the school administration addresses the teens' refusal to participate in the appalling debate, the student body, their parents, and the larger community are forced to face the issue as well. The situation explodes, and acrimony and anger result. What does it take for tolerance, justice, and love to prevail?

In the vein of the classic The Wave, this riveting novel explores discrimination and antisemitism and reveals their dangerous impact. Inspired by a true incident, The Assignment will remind readers that they have choices—and those choices can make a difference.
I received this book for free in exchange for an honest review. This does not affect my opinion of the book or the content of my review.
There are some books you just read and you know you are going to have a hard time writing about. Sometimes it is because you didn't like the book. Sometimes it is because you loved the book so much you can't find the words. And sometimes it is because you know your review won't give it justice. Well I can tell you right now that the review for The Assigment is going to be a difficult review to write. Not because the book wasn't good but because it is a really important book. It's a book that my review won't give it the justice it deserves, but I'm going to try anyway.
The Assignment is Liza Wiemer second published novel. It follows two high school seniors, Logan and Cade, that are best friends and partners in crime. They always have each others back and things don't change when their favorite teacher assigns a group of students to argue in favor of the Final Solution, most commonly known as the genocide of Jewish people by the Nazis. Logan and Cade think the assignment is wrong and immoral and a form of hatred and discrimination. When they bring it up to the administration they feel they are pacified and decide to take this as far as they have to so no one has to do anything like this again.  When the community gets involved everyone must take a hard look at who they are and what they stand for and how to make sure Cade and Logan get the result they and the Jewish community deserve.
The one thing you need to know is that The Assignment is a powerful book about what is right and wrong and how to use your voice for injustice. There is never a doubt in Cade and Logan's mind that the assignment given to them is wrong and they are willing to fight until they are heard. Because it is a favorite teacher people refuse to take them seriously because they don't want to lose someone they love but Cade and Logan are willing to take the wrath of the school district to make sure they are heard. That's what I loved about this book. These two teenagers were more willing to stand up for people than the adults. That says a lot about a community and about how these two were raised.
Again what I can leave you with is The Assignment is a powerful, must read. You will be sad and angry but you will feel empowered by the end. Liza Wiemer crafted a story that is a much read for teens and adults alike that asks some hard questions. Definitely pick this book up as soon as you can. You won't be sorry.
Related Posts