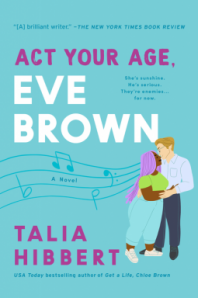 Act Your Age, Eve Brown
by
Talia Hibbert
Series:
The Brown Sisters #3
Published by
Avon
Published:
March 9, 2021
Buy on Amazon
Add to Goodreads
In Act Your Age, Eve Brown the flightiest Brown sister crashes into the life of an uptight B&B owner and has him falling hard—literally.

Eve Brown is a certified hot mess. No matter how hard she strives to do right, her life always goes horribly wrong—so she's given up trying. But when her personal brand of chaos ruins an expensive wedding (someone had to liberate those poor doves), her parents draw the line. It's time for Eve to grow up and prove herself—even though she's not entirely sure how…

Jacob Wayne is in control. Always. The bed and breakfast owner's on a mission to dominate the hospitality industry—and he expects nothing less than perfection. So when a purple-haired tornado of a woman turns up out of the blue to interview for his open chef position, he tells her the brutal truth: not a chance in hell. Then she hits him with her car—supposedly by accident. Yeah, right.

Now his arm is broken, his B&B is understaffed, and the dangerously unpredictable Eve is fluttering around, trying to help. Before long, she's infiltrated his work, his kitchen—and his spare bedroom. Jacob hates everything about it. Or rather, he should. Sunny, chaotic Eve is his natural-born nemesis, but the longer these two enemies spend in close quarters, the more their animosity turns into something else. Like Eve, the heat between them is impossible to ignore—and it's melting Jacob's frosty exterior.
I received this book for free in exchange for an honest review. This does not affect my opinion of the book or the content of my review.
About a year ago I picked up Get a Life, Chloe Brown by Talia Hibbert. At the time it seemed like everyone I know was reading the start of this series and loving it. So I jumped on the bandwagon and read it too. I found it adorable and really charming. So when I saw there would be 2 more I was even more excited. By the time I read Take a Hint, Dani Brown I was in more in love with the Brown sisters and I couldn't wait to get to the last. I didn't think I would love any of them as much as I love Dani, but I was wrong. Act Your Age, Eve Brown might now be my favorite of the three sisters. I loved every minute of Eve and Jacob's story.
Act Your Age, Eve Brown is the story of Eve, the youngest of the Brown sisters and the one that is the most lost in life. She has tried everything to find what will make her happy and make her feel successful but nothing has worked. That is until she has a fight with her family and storms off finding herself at a small town and at a B&B owned by grumpy Jacob. After a series of events lead to Eve hitting Jacob with her car she finds herself cooking at the B&B while helping Jacob as he heals from his injuries. Suddenly Eve is good at something and it is more than just cooking. 
Simply put, Act Your Age, Eve Brown was pure joy in a book. I loved the romcom feel of Jacob and Eve's unconventional relationship. It really really worked for me. But I also loved the serious tones thrown in too. The book was about more than Eve and Jacob being opposites and falling for each other. It was about finding your place in a world you don't feel like you fit in, finding the thing that makes you feel like you, and I loved that. Seeing what was underneath Eve's spoiled exterior made me love her all the more. And seeing her and Jacob open up to one another just filled my heart with joy.
It's hard to say 100% if this was my favorite book of the 3. I mostly want to say yes, but really all can I say with 100% certainty is that I'm sad the tale of the Brown sisters is over. I loved getting to know these three women and the men the ended up loving and I wish there were more of them to look forward to. All I know is that I will be auto buying anything else Hibbert puts out and you should too.
Related Posts