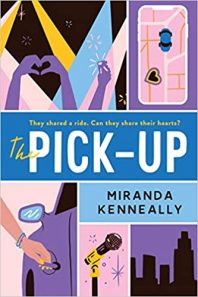 The Pick-Up
by
Miranda Kenneally
Published by
Sourcebooks Fire
Published:
September 7, 2021
Buy on Amazon
Add to Goodreads
When Mari hails a rideshare to a music festival, the last thing she expects is for the car to pick up a gorgeous guy along the way. Mari doesn't believe in dating--it can only end with a broken heart. Besides, she's only staying at her dad's house in Chicago for the weekend. How close can you get to a guy in three days?

TJ wants to study art in college, but his family's expectations cast a long shadow over his dreams. When he meets Mari in the back of a rideshare, he feels alive for the first time in a long time.

Mari and TJ enter the festival together and share an electric moment but get separated in a crowd with seemingly no way to find each other. When fate reunites them (with a little help from a viral hashtag), they'll have to decide: was it love at first sight, or the start of nothing more than a weekend fling?
I received this book for free in exchange for an honest review. This does not affect my opinion of the book or the content of my review.
Disclaimer: I should start by saying this book is been dedicated to me. I am friends with Miranda and was also fortunate enough to read some drafts of the story before it became a book. With that said I want it to be clear all thoughts are my own and not influenced by any of this.
It is no secret that I love Miranda Kenneally books. Since the first time I read her debut, Catching Jordan, in 2012 I knew I was a fan for life. I was in love with the whole Hundred Oaks series. And I was in love with Alex and Lulu's journey in Four Days of You and Me. Miranda writes it and I know I will love it. And that was true for her newest book, The Pick-Up. It was a delightful read about love at first sight and finding your way out of the shadow of family. Simply put, one of my favorite Miranda books yet.
The Pick-Up is about TJ and Mari, two complete strangers that meet when they end up in the same ride share on their way to the same music festival. Even though Mari is from Tennessee and in her last year of high school while TJ is getting ready to start his first year of college in Chicago, the two of them notice the spark between then and decided to hang out at the festival. But when they are separated with no way to find each other they think all is lost. That's until a viral hashtag helps them find one another again. But as they spend more time together and delve deeper into their fears and family issues they have to decide if this is more than a weekend fling and is possible love at first sight.
What I loved about The Pick-Up was the issues both TJ and Mari had to deal with. Don't get me know, they are an adorable pair. Mari is confidant and TJ is unsure for most of their weekend together and it is endearing. But underneath their whirlwind courtship there are real issues they have. Mari's mother is not a good mother (CW of verbal/physical/emotional abuse) leaving Mari to question wanting to get into anything serious with TJ and what her life is like at home opposed to life with her father in Chicago. And TJ is tried of being in his brother's shadow and not going after what he wants, art. Over a weekend Mari and TJ try to come to terms with all of this and figure out their lives also while falling for one another over a short time frame. It's a lot and leads to disagreements and uncertainty but also leads them to what is best for each of them. That right there is why I loved this book so much.
Honestly The Pick-Up is insta love, but it is insta love in the best way; the kind that feels believable. I could see something happening like this when emotions are high and you just meet the right person at the right time. And that is what happened for TJ and Mari. They met each other when they needed the other in their life and sparks ignited. It made the book a joy to read and a book you need in your life! Another gem by Miranda. Add it to your TBR.
Related Posts