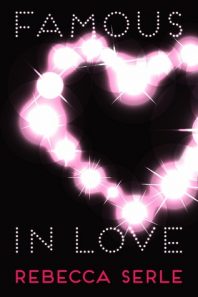 Famous in Love
by
Rebecca Serle
Series:
Famous in Love #1
Published by
Poppy
Published:
October 21st 2014
Buy on Amazon
Add to Goodreads
The romantic story of a girl who gets plucked from obscurity to star in the next major feature film franchise based on a book and the ensuing love triangles she gets entangled in on—-and off screen.

Meet Paige Townsen, Rainer Devon, and Jordan Wilder…

When Paige Townsen, a young unknown, gets cast in the movie adaptation of a blockbuster book series, her life changes practically overnight. Within a month, Paige has traded the quiet streets of her hometown for a crowded movie set on the shores of Maui, and is spending quality time with her co-star Rainer Devon, one of People's Sexiest Men Alive. But when troubled star Jordan Wilder lands the role of the other point in the movie's famous love triangle, Paige's crazy new life gets even crazier.
I wanted this book and I wanted it badly. As soon as I heard Rebecca had a 3rd book I needed it to be mine. You see, her first two books were fantastic; such depth and emotion in them. Really heavy, realistic reads that made you, as the reader, have all the feels. She has a way about her writing that just sucks you in and pulls you along. With Famous in Love having a different kind of vibe to it I wasn't sure how it would fit. Would it still be Rebecca that I heart or would it feel off in some way? Happily, I report that Famous in Love did not let me down. I heard Rebecca's voice loud and clear and I loved every minute of it.
Famous in Love is the story of Paige, a girl that has dreamed about being an actress. She read scripts and stars in small plays but has always lusted after the big screen. When an opportunity presents she finds herself auditioning for the role of a lifetime to star as the heroine in the latest YA trilogy to be adapted into a movie. When she lands the part she is whisked off to Hawaii to begin filming and everything changes. Suddenly Paige finds herself not only playing a girl in a love triangle but being in an actual one herself with her two sexy costars Rainer Devon and Jordan Wilder. As this gets more and more complicated Paige has to figure out how not only to navigate her new life but to navigate her love.
What I loved about this book is how totally Rebecca it is. If you follow her on Twitter or Tumblr you can see just how much of a pop culture junkie she is. She loves all things Hollywood and the fact that she created a book out of that love just made me smile. She hit on all the important things a good YA, Hollywood story needs too. She got the love triangle, the pop star references, the small town girl making it big, the YA trilogy that people devoured made into a movie. She even managed to capture the feeling a reader gets when a 3rd book is about to be released and you NEED TO KNOW HOW IT ENDS! It amazed me how she managed to capture all of that in just over 300 pages and to do it at the level she did.
The other thing about Famous in Love was Paige, Rainer, and Jordan. It felt genuine to me. Paige was a girl that was on this roller coaster. Her life was upside down and she was living in a world that was so foreign to her. And here were these two hot guys that had been in the business for a long time that she is attracted to. It was 100% natural that she would grab on to them and feel the things she did and for them to reciprocate. It all had a follow to it that added to the beauty and the tension to the story that elevated the whole book for me. I found myself invested in what would happen and how everything turned out which is important when reading a book. At least for me anyway.
My word of advice to readers is that you don't go into Famous in Love expecting to have the same kind of journey you had in Rebecca's 2 previous books. This book is a different kind of journey in the way that it is told and how the characters get from A to B and how everyone ends up. It isn't as heavy as The Edge of Falling and doesn't have the Shakespeare vibe of When You Were Mine. It is its own book and one that works when all the pieces have clicked into place. It made me smile and almost miss my train stop. It made me what to savor reading it and hurry up and finish. And it made me want to read the fake book it is based on and find out what the heck happened in the last book. It cemented my love of Rebecca Serle and now I sit and wait for her next book to arrive whenever that may be.
*note: Just found out this will be a trilogy so SCORE!
Related Posts