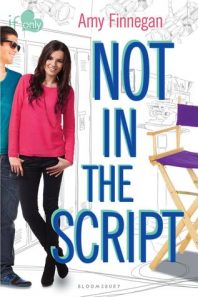 Not in the Script (If Only . . . #3)
by
Amy Finnegan
Published by
Bloomsbury USA Childrens
Published:
October 7th 2014
Buy on Amazon
Add to Goodreads
Millions of people witnessed Emma Taylor's first kiss—a kiss that needed twelve takes and four camera angles to get right. After spending years performing on cue, Emma can't help but wonder if any part of her life is real anymore . . . particularly her romances. She's been burned by heartthrobs (and the press) one too many times, but there's something about Emma's co-star on her new TV show Coyote Hills that is irresistible. Jake Elliott is gorgeous, smart and actually cares about Emma's charitable foundation. But she's sworn off on-set relationships. They always end badly . . . don't they? This third novel in the deliciously fun If Only romance line proves that the best kinds of love stories don't follow a script.
I received this book for free in exchange for an honest review. This does not affect my opinion of the book or the content of my review.


This book was adorable! I mean I love a good Hollywood behind the scenes book and this fit the bill perfectly. I wasn't really sure what to expect when I went into. Hollywood books are tricky. They can go horribly wrong very quickly. But alas that was not the case with this Hollywood book so in turn I ended up very pleased.
Not in the Script is about Emma Taylor, a girl that has had the acting bug her whole life. She has been in movies, had her first kiss on camera, and has dealt with media backlash. When the opportunity comes up to film a TV series Emma takes it and decides she is swearing off guys as she has a reputation for the bad boy. But what Emma isn't counting on is her school-girl crush Brett being a cast member and on Jake, the nice guy that is acting for the first time. Soon Emma finds herself in all the tabloids linking her to Brett but having feelings for Jake. And when she adds in her best friend Rachel, things get even more complicated than Emma could imagine. When it comes down to it Emma has to decide what is important to her, her image or her heart.
Honestly Jake and Emma were my absolute favorite parts of this book. Together or separate they were just great. They had a perfect kind of chemistry that I love in a good book. And they had a great friendship which I like even more in a good book. I felt for Jake as he was in a weird place, having never acted before, and didn't 100% feel comfortable or understand the business. And poor Emma was trying to do everything 'right' and it just wasn't working for her. Watching the relationship blossom between these two, whether romantic or a friendship was some of the best parts. And then seeing them interact with Kimmi and Brett and Jake's real friends and Emma's friend Rachel, it added another level, another way to see really who they both were.
And speaking of Rachel, she was the worst friend in the history of bad friends. GAH! I HATED her with the red hot intensity of a thousand suns. She was selfish and annoying and all she did was take, take, take. Even when she did something nice I knew there was a motive behind it because Rachel did not care about Emma at all. She didn't really care about people at all. Basically she drove me up a wall.
But seriously, besides she who shall not be named, Not in the Script was a great, light hearted read about figuring out what is best for yourself and how to get there and keep it. The drama quotient was perfect and the romance level was there too. I really enjoyed myself reading this one and I think you will too. It reminded me of Rachel Hawthorne books in a way and I LOVE Rachel Hawthorne books. Pick it up for sure.
Related Posts