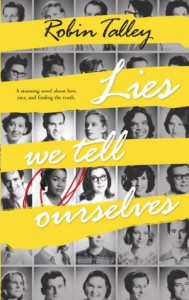 Lies We Tell Ourselves
by
Robin Talley
Published by
Harlequin Teen
Published:
September 30th 2014
Buy on Amazon
Add to Goodreads
In 1959 Virginia, the lives of two girls on opposite sides of the battle for civil rights will be changed forever. Sarah Dunbar is one of the first black students to attend the previously all-white Jefferson High School. An honors student at her old school, she is put into remedial classes, spit on and tormented daily. Linda Hairston is the daughter of one of the town's most vocal opponents of school integration. She has been taught all her life that the races should be kept "separate but equal." Forced to work together on a school project, Sarah and Linda must confront harsh truths about race, power and how they really feel about one another. Boldly realistic and emotionally compelling, Lies We Tell Ourselves is a brave and stunning novel about finding truth amid the lies, and finding your voice even when others are determined to silence it.
I received this book for free in exchange for an honest review. This does not affect my opinion of the book or the content of my review.


This book has been on my radar since sometime in May. I was fascinated by the idea behind it as I haven't read many like it in YA. It was a book that was taking a chance in my opinion and that excited me. And now after finally reading it I can say that although I wasn't blown away, it was a hard book to read and I imagine to write. It was a slap in the face with culture shock at the way things were in the US what wasn't that long ago and how easy fear and hatred can turn ugly. But even with something slightly off for me in the story, more on that in a bit, I really thought it was a strong emotional read.
Lies We Tell Ourselves is a harsh look at integration in the south in the late 1950s. It's the story of Sarah, one of the 9 black students enrolled in an all-white school, and Linda, the popular white girl with a father that is for segregation. Sarah and Linda are from two different worlds and know nothing about each other. They have different views on everything and have very different school experiences. Sarah is constantly abused and picked on at school while Linda is snobby and uppity. And then one day the two of them are paired on a project together. What starts out as the two of them debating on the right and wrong of integration turns into something they never saw coming and can change everything they know.
I'm not gonna lie, reading parts of this book was hard and shameful. A few years ago I was lucky enough to go to Memphis and The Civil Rights Museum. Seeing how people were treated because they were perceived as different was hard. And knowing it didn't happen all that long ago was even harder. So reading Lies was tough. The name calling, the torment, the blatant disrespect of a human, felt like a punch in the gut. I was actually embarrassed that people thought this was okay behavior, that you could treat human beings like they were nothing. It bothered because I know it was truthful. What Sarah and the other characters went through was difficult to read because it was so unfair. And that their parents had them do this just killed me, but I understood.
What I really liked in the book was Linda and Sarah's relationship. From the get go it was strained. They didn't see eye to eye on anything. They were stubborn and pigheaded and fought one another on principle. But there was a respect that was there hidden under the surface. Linda had yet to make-up her own mind on anything and Sarah was getting her to do that. Add on top of all of that their attraction and their relationship was brought to another level. They had so much going against them yet they couldn't fight what they felt for one another. It really was a beautiful part of a rough story.
I guess my problem was that between the segregation/integration part of the story and the 'taboo' love story I felt like there was just a tad too much. Neither of these important parts were focused on fully and the book suffered some in my opinion. I almost wish the focus had been on one or the other instead of both. I 100% get what the author was trying to do. I just wish it was done somewhat differently. It's really hard for me to put this into words. Basically something felt off.
But all in all I enjoyed Lie We Tell Ourselves. It was a hard look at our history and what fear of different can do. It showed the struggles of two teenage girls living in that time and what they were both up against. Definitely one you should pick up.
Related Posts