Day 1 – Tuesday, May 26th
I went to BEA a day earlier this year for some reason. When booking my trip I thought it made sense to have an extra day (believe me it did). So I started my day
by getting up and wearing the most book worthy item a book nerd can have, my Anna and the French Kiss tank created by the amazing Gillian (Writer of Wrongs) and on sale HERE. I collected all my bags and headed to the train station where I met Lauren (Love is Not a Triangle). We got our
Dunkin Donuts (I had cup koozies for both of us because this is what I do!) and we headed to the stop that picked up Sarah (What Sarah Read) and Gail (Ticket to Anywhere). The 4 of us, giddy with excitement talked the whole way there (minus the brief second some girl behind us tried to tell us to be quiet when we weren't on the quiet cart!). We all pretended that we would read but we basically went over schedules and gabbed a lot.
Once we got off the train we all walked to out prospective hotels (Gail, Sarah and I to one, Lauren to another) and split up. Gail and Sarah checked us in and we then waited for Kristina (Gone Pecan, which is pronounced different than I thought). When Kiki arrived the 4 of us had a brief gift exchange and then headed to grab a drink and a bite to eat. After that we all dispersed and I headed out to change and meet the fab Estelle (Rather Be Reading). Sadly I didn't get to spend time with Estelle last year, but this year we changed that. We met at a craft beer bar, The Pony Bar, as we both love a good craft beer, took a terrible selfie and had more beers than we planned. Basically it was a blast and I wouldn't have started my trip off any other way.
After Estelle and I parted (cries for always, although I did end up seeing her bunches), I headed to meet up with some other bloggers that I was excited to see. Got to say hello to Hannah (The Irish Banana) and Andye (Reading Teen and my fraternal name twin). I also got to meet Liza (WhoRuBlog), who I have been Instagram and Twitter buddies with forever, and got a copy of her new book Hello? signed, Lili (Lili's Reflections), Steph (No BS Book Reviews),  Kim (kimberlyfaye reads), Kelly (Belle of the Literati), Nicole (Paperback Princess) and so many more. It was a lot of fun and nice to get to meet so many at a smaller setting.
Day 1, done.
Day 2 – Wednesday, May 27th
Wednesday was definitely a weirder day for BEA. I know it was only my second year going but it felt strange that it was a "half day" kind of deal. Sarah and Kiki were after one of the highly anticipated drops so they left the room earlier than Gail and I. The two of us ended up eating a late-ish breakfast at the palce next to our hotel called Patzeria Family and Friends. It was a small place but they didn't rush you which was nice and breakfast was filling and inexpensive. It was an excellent find for sure.
After breakfast the two of us walked to the Javits. I don't know what it is, but there is something about seeing that building for the first time that reminds you that BEA is actually happen and you are actually there. Anyway the two of us picked up our badges, my first year as press, and got the all important Starbucks (where I got to meet Gillian while waiting in line). When we were caffeinated we headed up to the entrances to find our friends. We ended up sitting in line with Sarah, Kiki, Danielle (Love at First Page or DNF at Last Page depending on how you look at it), Asheley (Into the Hall of Books), Jess (Gone with the Words), Lauren and a couple of others. We all sat around plotting planning our attack.
And then the doors open and some people seem to lose their minds and all sense of decorum. Luckily all the people I know were not these people. But man I have never seen such a frenzy (last year I went after the doors opened everyday). I will say the plus about people after tickets for a coveted ARC left the floor more open for me to browse and grab the Galleys I was after which was exactly what I did. Gail and I actually did it
together. We wandered the floor (ran into Brianna) and got the lay of the land picking up books along the way and also stopping to say hi to people. It had been a year since I had done this but after like 3 minutes it felt like I had never left.
So after so wandering it was time for my schedule. I had a light day on Wednesday. I needed to get to 2 signing and to get 1 galley. First up with Amy Ewing and The White Rose. I have been Twitter friends while Amy since I read The Jewel last year. Amy was kind of enough to send me a cope of The White Rose so I was able to read it before I met her, but I had to meet her. I waited in line and when I got up there and introduced myself we gave each other squishes and I told her her line was long and I yelled at her for something that happened in The White Rose (if you want to know you need to read it!). We didn't get to talk long but I was so happy to get to meet her. After that I met back up with Gail and we stopped by Bloomsbury and said hello to the gang there (I love the crew at Bloomsbury so much!) and then we grabbed a Quirk Books tote (my favorite), saw Emma (Miss Print) and Nicole (The Book Bandit) and headed to Penguin to get my next book on my list, Jennifer Lancaster, for my friend. Day 1
on the floor was a success. Now it was time to party.
Gail and I met up with Tiff (Mostly YA Lit) and some of her blogger friends as we were all invited to a Wine Tasting for Laura Dave's book Eight Hundred Grapes. 5 of us shared an Uber from the Javits to The Park NYC on 10th Ave. We really had no idea what to expect but the tasting ended up being a lot of fun. It was at a beautiful location and the author and the people at Simon & Schuster were so nice. We got to try a red wine, a white wine, Prosecco and a dessert wine while snacking on sliders, cheese, fruits and of course dessert. It was a fab experience and I want to thank Laura and S&S for having me.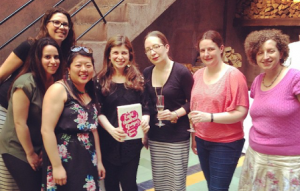 Day 2, done.
Stay tuned tomorrow for Days 3-5.
Related Posts