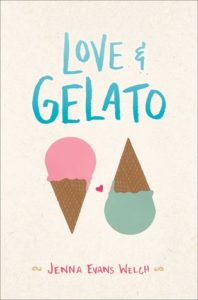 Love & Gelato
by
Jenna Evans Welch
Published by
Simon Pulse
Published:
May 3rd 2016
Buy on Amazon
Add to Goodreads
A summer in Italy turns into a road trip across Tuscany in this sweeping debut novel filled with romance, mystery, and adventure.

Lina is spending the summer in Tuscany, but she isn't in the mood for Italy's famous sunshine and fairy-tale landscape. She's only there because it was her mother's dying wish that she get to know her father. But what kind of father isn't around for sixteen years? All Lina wants to do is get back home.

But then Lina is given a journal that her mom had kept when she lived in Italy. Suddenly Lina's uncovering a magical world of secret romances, art, and hidden bakeries. A world that inspires Lina, along with the ever-so-charming Ren, to follow in her mother's footsteps and unearth a secret that has been kept from Lina for far too long. It's a secret that will change everything she knew about her mother, her father—and even herself.

People come to Italy for love and gelato, someone tells her, but sometimes they discover much more.
I was drawn to Love & Gelato by the cover. There, I said it, I judged a book by its cover and that's why I bought it. I'm sorry, but I'm a sucker for ice cream-ish covers. After I got over the cover love, I got serious and looked up what the story was about. I was immediately invested. A mystery that unfolds in Italy and a story about a 16 year old girl and the father she never met? Yes please. It just screamed a me book, and it was…to an extent. Honestly I really enjoyed Love & Gelato. It lived up to my expectations in a way. But there was one part that didn't do it for me and it was the romance.
Before I get into the romance part let's talk about what I loved: the diary/journal mystery unfolding, the relationship between Lina and her father, and the use of Italy. The diary/journal part of Love & Gelato was truly the star of the show.  Reading how Lina learned about her mother's history and find out a part of her life that she never knew about was such an amazing experience as a reader. By getting to know a part of her mother this way, Lina got to see Italy and what her mother fell in love with and she got to know her father. Without that diary Lina would have missed out on what Italy had to offer which would have been a shame. Instead she got an experience all her own with her mother's guidance that was really one of a kind.
And I really wish the story ended at that. For me that was all Love & Gelato needed, the journal and the eye opening experience. Instead a romance was added in and it just took away from the story for me, which is super rare because I'm always team romance. I personally think that Lina didn't need to fall in love or have a boy she was crushing on for Love & Gelato to be a truly great book. For me the story was Lina falling in love with the idea of new experiences and learning her mother's history. It just didn't need the romance.
All in all I enjoyed Love & Gelato. If I could have taken the romance out I would have been 10 times happier and the book would have been given a solid 4 stars. With that said though I really liked this one and the story it told. I suggest you pick it up and see for yourself how you will feel.
Related Posts