In 2018 I had the idea to have readers and friends read my favorite books from years past. I had 20+ amazing people sign up and read some of my all-time favorite books. They took the time out of their busy lives and reading schedules and read books I love and shared what they thought on my blog. It was a lot of fun and I got to see some new takes on old favorites. It actually was a fun experience. If you are interested in the reviews HERE.
This year I decided to give back in a way and asked everyone that signed up to tell me their favorite book (that I have not read) because in 2019 it is time to do NEW TO ME.
~~~~~~~~~~~~~~~~~~~~~~~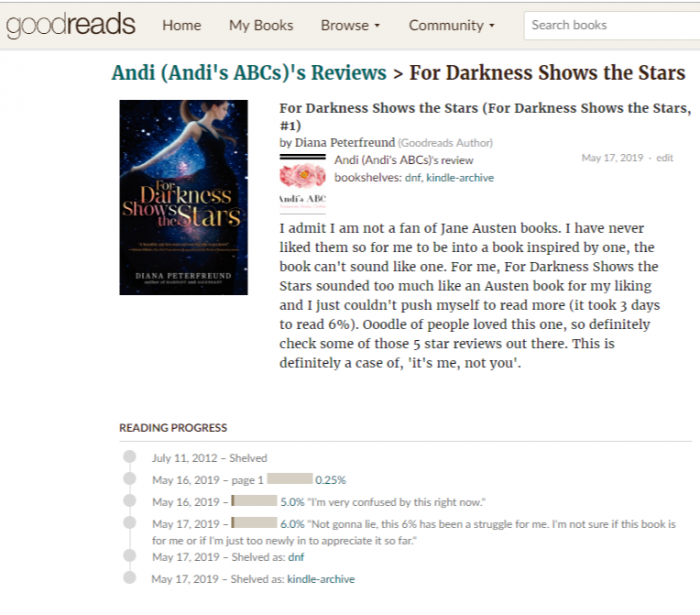 Like I mentioned a couple of months ago, I knew going into this feature there may be books that weren't for me. It was a probably I crossed when I DNFd Daughter of Smoke and Bone and it was a probably I crossed once again with For Darkness Shows the Stars. I'm completely bummed out that I couldn't do it. I tried but I knew early on it wasn't for me and I just didn't think it was fair to the book or myself to push on. I feel terrible, but it was for the best and I don't regret it.
But just because it wasn't for me it doesn't mean it wouldn't be for you. Check out these reviews with high ratings:
"Diana Peterfreund managed to make her futuristic reimagining read pretty similar to a historical and I loved that about it.  It's such a unique kind of story." -Katie for Katie Rose Reads
"The characters delight, the world grabs hold of you instantly, and the words flow perfectly." – Jessica from Wastepaper Prose
"For Darkness Shows The Stars is a story that seeps into your bones, that puts questions in your brain, causing you to examine it on a deeper level." – April from Good Books & Good Wine
"For Darkness Shows the Stars is a book that you do not want to miss!" – Christin from Portrait of a Book Review
"…Peterfreund hits us with an unbelievable moment of physical and mental excitement, and the novel just builds from there." – Tiff from Mostly YA Lit
Related Posts