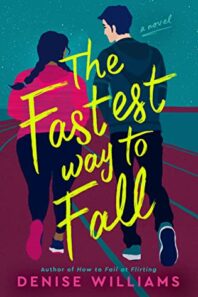 The Fastest Way To Fall
by
Denise Williams
Published by
Berkley Romance
Published:
November 2, 2021
Buy on Amazon
Add to Goodreads
Britta Colby works for a lifestyle website, and when tasked to write about her experience with a hot new body-positive fitness app that includes personal coaching, she knows it's a major opportunity to prove she should write for the site full-time.

As CEO of the FitMe app, Wes Lawson finally has the financial security he grew up without, but despite his success, his floundering love life and complicated family situation leaves him feeling isolated and unfulfilled. He decides to get back to what he loves—coaching. Britta's his first new client and they click immediately.

As weeks pass, she's surprised at how much she enjoys experimenting with her exercise routine. He's surprised at how much he looks forward to talking to her every day. They convince themselves their attraction is harmless, but when they start working out in person, Wes and Britta find it increasingly challenging to deny their chemistry and maintain a professional distance.

Wes isn't supposed to be training clients, much less meeting with them, and Britta's credibility will be sunk if the lifestyle site finds out she's practically dating the fitness coach she's reviewing. Walking away from each other is the smartest thing to do, but running side by side feels like the start of something big.
I received this book for free in exchange for an honest review. This does not affect my opinion of the book or the content of my review.
Since Denise Williams debut, How to Fail at Flirting, she has become an auto-buy author for me. There is something about her writing that just charms me. She understands her characters and her audience in a way that hits just right. So when I heard about The Fastest Way to Fall I needed it on my TBR. And after reading it I can confirm that Denise has maintained her status as auto-buy and I don't see that changing.
The Fastest Way to Fall is about Britta Colby, an employee at a lifestyle website that has been tasked with writing about a new body positive fitness app. Britta is supposed to sign up for their personal coach and write about her experience. She needs this to work because she needs to prove she should become a full time writer for the site. What Britta doesn't see coming is the CEO of FitMe, Wes, who also ends up being her personal trainer. As the two of them spend more time talking and chatting Britta finds herself enjoying her tome with Wes more than she should. And when they decide to work out in person what started as something harmless becomes something that can undo them both.
There was so much I loved about The Fastest Way to Fall. I loved Britta and her energy and her spirit. I loved how relatable she was and how human she felt. She was smart and sarcastic and creative and charming. She knew who she was and she was okay with it. And I loved Wes and how encouraging and sweet and selfless and caring he was. The two of them were pure perfection as a match. They both stumble and fall and make bad decisions but they learn from mistakes and grow and change. They break the rules and put it all on the line professionally but it was worth it to them because they felt something between them.
In the end this book was a body positive look at fitness and nutrition. It was a book about falling for someone after really getting to know them. It was a book about what rules you are willing to overlook in order to find that true connection. It was not about weight loss and dieting (although there is a CW for some of the subject mater so be sure to read the author's note first). It was another gem by Denise Williams and it's a book you need in your life!
Related Posts