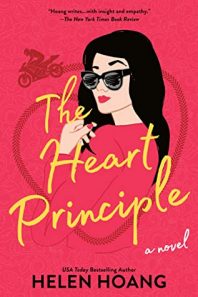 The Heart Principle
by
Helen Hoang
Series:
The Kiss Quotient #3
Published by
Berkley
Published:
August 31, 2021
Buy on Amazon
Add to Goodreads
When violinist Anna Sun accidentally achieves career success with a viral YouTube video, she finds herself incapacitated and burned out from her attempts to replicate that moment. And when her longtime boyfriend announces he wants an open relationship before making a final commitment, a hurt and angry Anna decides that if he wants an open relationship, then she does, too. Translation: She's going to embark on a string of one-night stands. The more unacceptable the men, the better.

That's where tattooed, motorcycle-riding Quan Diep comes in. Their first attempt at a one-night stand fails, as does their second, and their third, because being with Quan is more than sex—he accepts Anna on an unconditional level that she has just started to understand herself. However, when tragedy strikes Anna's family she takes on a role that she is ill-suited for, until the burden of expectations threatens to destroy her. Anna and Quan have to fight for their chance at love, but to do that, they also have to fight for themselves.
I received this book for free in exchange for an honest review. This does not affect my opinion of the book or the content of my review.
In 2018 I fell in love with Helen Hoang and the world of people she created in The Kiss Quotient. I wanted to know everything about every character mentioned. I wanted to know everything I could about Michael's family. And I got some of that in The Bride Test and Khai's story. But what I really wanted was Quan's story. Since the moment he was introduced I wanted to know everything about him. And that is what The Heart Principle is, it is Quan's story. And I loved everything about it.
The Heart Principle Is the story of Quan and Anna. Anna is a violinist that had a moment of fame that went viral and she hasn't been able to deal with the pressure ever since. On top of that her boyfriend tells her they should date around and see what's out there. Not sure how to deal with her lack of music inspiration and her crumbling relationship Anna decides she needs a one night stand where she meets Quan. Quan is having a hard time himself. His business with Michael is going strong but he is gun shy when it comes to dating thanks to some health things. When Quan and Anna keep failing at a planned one night stand they start to learn more about each other and let each other in. But when something happens to someone in Anna's family everything changes and both Quan and Anna find themselves on very different pages needing very different things.
Unlike Helen Hoang's first two books, The Heart Principle hit me in the feels. This book is a serious look at grief, mental health, physical health, and a person's well being. What Anna and Quan go through over the span of 300+ pages made me so emotional. There is no way around it, Anna's story is sad. She goes through the roughest time in her life in a short span of time and it takes a toll on her. It was hard to read everything she had to deal with and how she was treated by people that love her. It was hard not to break when she broke. It was hard to see Quan dealing with his own stuff while also trying to help someone he had come to care about. What made this book so hard and emotional was how real all of these things were and how beautifully written it was.
When you go into read The Heart Principle, make sure you know one thing…this is not The Kiss Quotient or The Bride Test. This book is heavier and more emotional than you will anticipate. Don't go into it thinking you are getting something on the light side. This is an emotional read that will tear your heart out but also make you smile and see there is always light at the end of dark tunnels. A fantastic addition to Hoang's catalog and I can't wait to see what else she has in store for us.
Related Posts